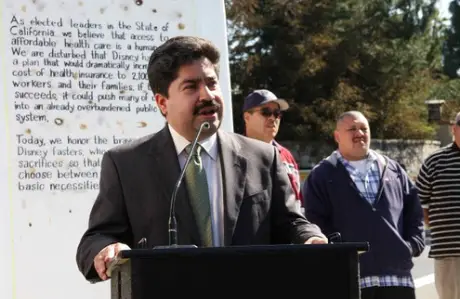 For Immediate Release: October 20, 2010
For More Information Contact: Carol Chamberlain – Office: (916) 319-2069, Cell: (916) 804-5355
Assemblyman Solorio's Statement Regarding the Announcement of the "Latest" Selected Bidder to Buy the Orange County Fairgrounds
SACRAMENTO, CA – State Assemblyman Jose Solorio issued this statement regarding today's announcement of the Department of General Services' selection of a new bid in the third round of the Governor's attempt to sell the Orange County Fairgrounds.
"The citizens of our county want to keep the Orange County Fairgrounds under public ownership. I and others will continue to fight to preserve the OC Fair, the equestrian facility and the talented staff that run the fairgrounds.
Therefore, on December 6th, I will introduce new legislation to stop the sale, and I will consider other legislation as developments dictate.
Like last year's effort to stop the initial sale, I expect strong bipartisan support for the bill. And come January, we will have a new Governor that will be open to hearing our county's interests.
On a related note, I also remind the Governor that his Request for Proposals (RFP) states that the sale would be subject to legislative approval. He should keep this promise. On page 12 of the RFP, it's written, 'Subject to Department and legislative approval, the Department intends to execute a Purchase and Sale Agreement with the bidder deemed to have offered a bid that best complies with the State's objective of obtaining the highest and most certain return for the Property.'
It makes no sense to lose forever our county's link to the past just for a small and fleeting financial gain, especially in a down real estate environment. I urge this governor and candidates Brown and Whitman to stop the sale once again."
State Assemblyman Jose Solorio is the Chair of the Assembly Insurance Committee and serves on the Assembly Appropriations, Local Government and Transportation Committees. He represents the Sixty-Ninth Assembly District, which includes the cities of Anaheim, Garden Grove, and Santa Ana. For more information about Assemblyman Solorio, visit www.assembly.ca.gov/solorio.
________________________________________
Capitol Office: State Capitol, P.O. Box 942849 • Sacramento, CA 94249-0069
Phone: (916) 319-2069 • Fax:(916) 319-2169
District Office: 2400 East Katella Avenue, Suite 640 • Anaheim, CA 92806
Phone: (714) 939-8469 • Fax:(714) 939-8986
E-Mail: Assemblymember.Solorio@assembly.ca.gov
Web Site: www.assembly.ca.gov/solorio