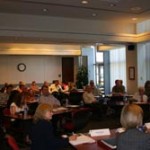 Applications are now being accepted for the OCTA Citizens Advisory Committee
The Orange County Transportation Authority (OCTA) considers public participation and community leadership to be vital components of delivering successful transportation projects and services. OCTA is now recruiting Orange County community leaders for openings on the volunteer Citizens Advisory Committee (CAC). This 34-member committee, appointed by the Board of Directors, plays a significant role in representing a broad spectrum of community perspectives on transportation projects, studies and outreach activities.
If you are interested in serving or know of other motivated community leaders who could contribute their service for a two-year term on the committee, please let us know by clicking here. Please feel free to encourage interested candidates to click here to get more information and to download an application. Or, request a printed application by contacting Alice Rogan at (714) 560-5577 or arogan@octa.net.
Submitting your application:
Applications are due no later than May 31, 2011. Applications can be mailed to: OCTA, Alice Rogan, External Affairs, P.O. Box 14184, Orange, CA 92863-1584. They can also be faxed to 714-560-5795 or scanned and emailed to arogan@octa.net.
We are looking for volunteers who live in Orange County with the following qualifications:
• Community involvement – currently represent a group with a large, active membership
• Demonstrated interest in community activities and transportation issues
• Willingness to dedicate a minimum of 20 hours per year to OCTA meetings and other activities
If you have any questions about CAC membership or the application form, please contact Alice Rogan, Community Relations Officer, at (714) 560-5577 or arogan@octa.net. Thank you for considering this important opportunity and for assisting us in getting the word out.