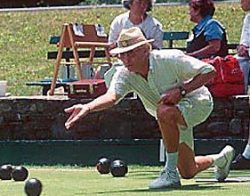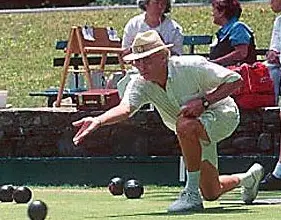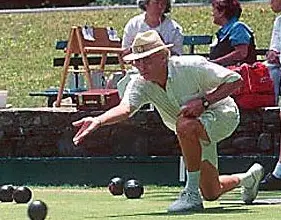 Visit the Santa ana Lawn Bowling Club's annual "Open House" on Saturday, May 7, from 10 am to  2 pm.
Come and learn how to lawn bowl. Free lessons, free use of a set of lawn bowls. It is a fun exercise, very inexpensive and fun for all age adults. Come to the greens in Santiago Park.
Park in the creek bed off of Memory Lane east of Main St just north of the Descovery Science Center. From 10 to 2 on Sat May 7th.
The Santa Ana Lawn Bowling Club was founded in 1938 on grounds belonging to the Santa Ana Parks Dept. The club is run by a board of directors and officers who are elected by the club membership. It is located at 510 East Memory Lane, Santa Ana in Santiago Park not far from the Westfield MainPlace Shopping Mall.
Bowling is on Tuesdays, Thursdays and Saturdays and on special tournament days. Bowling times are Tuesdays and Thursdays May through Oct. at 4:00pm, Nov. through April at 1:00pm and at 9:00am on all Saturdays. Fun Day is the first Saturday of the month.
Yearly dues are $75. New members are allowed free use of bowls for up to four months, instruction, a locker (subject to availability) and a name badge. There is a $3 fee each time we bowl to cover incidental club expenses. The fee is higher on fun day and tournament days to cover the prize money given to the winners. In respect of tradition, bowlers wear the traditional "whites" on Fun Days, club tournament days and for special events. Membership in the Santa Ana Lawn Bowling Club also provides access to the other Lawn Bowling Clubs in the area. Many tournaments are held throughout the year at other clubs which are open to members of all of the Lawn Bowling Clubs.
National lawn bowling is governed by the United States Lawn Bowling Association which has its own officers and board and is divided into seven divisions which oversee lawn bowling at the local levels. The Santa Ana Lawn Bowling Club belongs to the Southwest Division (www.swlawnbowls.com). International tournaments are run by the World Bowls Board. Click on an image below to enter the respective web site.