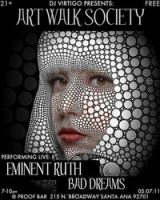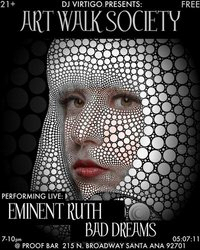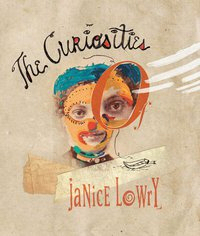 The next Downtown Santa Ana First Saturday Art Walk will be held on May 7!
Parking available on 3rd & Broadway, additional parking available on 4th & Birch.
Time: Saturday, May 7 · 6:00pm – 10:00pm
Location: Downtown Santa Ana Artists Village
CSUF Grand Central Art Center:
Main Gallery-The Curiosities of Janice Lowry
The Curiosities of Janice Lowry is a retrospective exhibition that will feature more than 100 artworks including; assemblage, collage, painting, drawing and personal collections. In 2007 OC Weekly named Lowry the region's best visual artist, praising her assemblages generated from found objects. Lowry is best known for her assemblages, which she described as a way to solve the problem of expensive framing, and for her journals she drew, painted, and collaged for over 30 years. In October of 2007 all of Lowry's journals, future journals and papers pertaining to her art career were accepted into the permanent collection of the Smithsonian Archives of American Art in Washington D.C. In April 2009 Lowry was diagnosed with a rare form of cancer. She faced the finality of her future in the same way she faced everyday of her life. September 20, 2009 she succumb to the disease at age 63.
Book Release: A beautiful 256-page full-color hardbound standard and special-edition retrospective book will be available for purchase during the exhibition. This publication will include over two hundred works of construction, sculpture, and collage with essays by Jon Gothold, Mike McGee, Mark Ryden, and Joanna Roche.
Project Room-Empire
Texas-based artist Bale Creek Allen will be the next artist-in-residence at Grand Central Art Center. Allen grew up in Fresno, California, but now resides in Austin, Texas. Fresno and Texas, particularly Lubbock where his father is from, have strong influences on Allen's art. He has been inspired by tumbleweeds, tire treads, and roadkill. As part of his residency Allen will exhibit sculptures from his Empire series in the GCAC Project Room. Empire consists of bronzed objects most of which evoke the feel of Americana: stars, stripes, lone ranger mask, and paper planes. Other objects are a reflection of Allen's environment: tire treads, and taxidermy rattlesnakes.Allen has an impressive artistic pedigree and works in many different media: painting, drawing, wood work, bronze, ceramics, photography, film, writing, acting, playing drums, and singing. His parents are visual artist and songwriter Terry Allen, and actress Jo Harvey Allen.
Book Release: Grand Central Art Center is publishing a catalog featuring artworks from the Empire series and an essay from Michael Solway.
Sales Gallery-nona decima morta: viscurrealistic fabrications by Ron Ulicny
Portland-based assemblage artist Ron Ulicny exhibits his latest sculptures.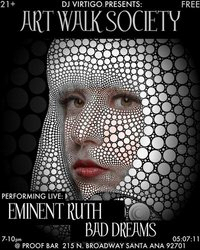 ART WALK SOCIETY/EMINENT RUTH/ BAD DREAMS @ PROOF
DJ VIRTIGO PRESENTS: THE ART WALK SOCIETY TAKING PLACE THE FIRST SATURDAY OF THE MONTH @ PROOF BAR
PERFORMING LIVE:
BAD DREAMS AT 8PM
EMINENT.RUTH AT 9PM
COME OUT AND GET LOOSE WITH US WON'T YAH!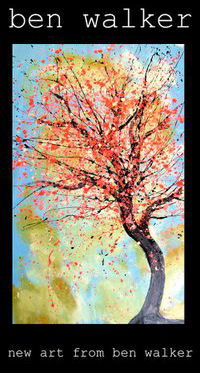 Time: Saturday, May 7 · 7:00pm – 10:00pm
Location: Raven Studios
207 N. Broadway – Suite E, Santa Ana, CA
Join Ben Walker on May 7th from 7-10pm at his new home in the Raven Studios.  He will be displaying some new tree paintings mixed up with paintings from my love sex death series. The event coincides with the Santa Ana Art Walk and there are tons of artists studios, galleries along with live music and great food – all open for you to explore.
If you are in the area stop on by.
Located in the Historic Santora Arts Building
Raven Studios
207 N Broadway, STE E
Santa Ana, CA 92701