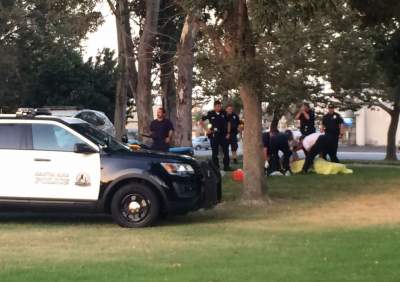 At around 7 pm, Santa Ana Police and Rancho Santiago Community College District Public Safety Officers responded to a fight at Centennial Park right next to the skate park – which is also where Godinez Fundamental High School is located.
An unidentified man instigated a fight with several men at the Skate Park. According to witnesses the man appeared to be under the influence of drugs or alcohol.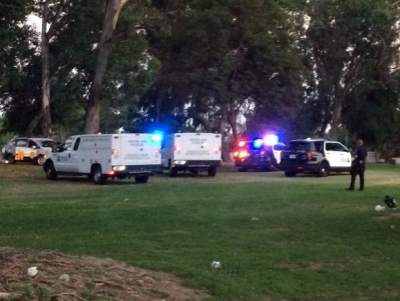 During the fight, one of the men, Adrian Hernandez,19, of Santa Ana, is suspected of retrieving a hammer from a backpack and striking the victim several times in the chest, knocking him to the ground, according to the O.C. Register.
Witnesses said that another man struck the victim on the head multiple times with a skateboard, and a third man involved in the incident fled and remains at large.
Hernandez was arrested and booked on suspicion of assault with a deadly weapon.
All of this happened while families and kids were in the park. This is another violent incident at the skate park in Centennial Park which has no supervision. The Santa Ana City Council is currently holding up $2M in city funds for park projects because 1 city council member wants a new skate park on the other side of town. Before opening a new skate park we suggest the Santa Ana City Council go check out the existing one at Centennial Park!
On Monday, there was also a weapons incident at Centennial Park at around 2:46 pm right when Godinez HS was letting out. Our city parks are no longer safe for youth and families to enjoy…
Anyone with information about this latest incident is asked to contact the Santa Ana police or the Orange County Crime Stoppers, at 1-855-TIP-OCCS or OCCrimestoppers.org.