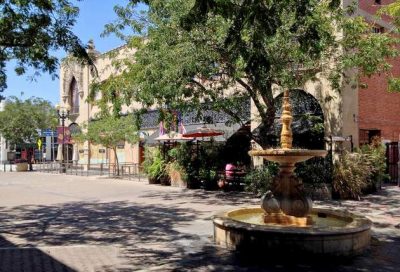 The homeless problem in Santa Ana is beginning to impact our local schools. In the latest incident, which occurred last Monday at around 6 a.m. in the morning, a female student at the CSUF Grand Central Arts Center was leaving the building, which is in DTSA at the 2nd Street Plaza, when a female homeless person immediately confront the student in an aggressive manner.
The victim asked that the individual leave her alone, but the individual got more aggressive to the point of hitting the student. The student then fled to the parking structure area, in hopes that security at the structure might assist, with the attacking individual still in pursuit. As police were called, the suspect fled before police could arrive and was of course not found once they did finally show up on the scene.

We have heard from others in the community, including retired City Council Members, that the homeless in our city are become more aggressive. Many of the local homeless have mental problems and quite a few are also dealing with drug addiction.
The CSUF Grand Central Arts Center has acted to keep their students safe by installing security cameras. But that won't stop these attacks. In fact I am told that another such incident occurred recently at or near the Gypsy Den restaurant (which is one of my favorite eateries in DTSA).
We also have heard of SAUSD Students getting attacked in recent weeks, by homeless individuals.
Now more than ever we need to do our part by voting for Santa Ana City Council Members who will hire more police – as the SAPD is at historically low staffing levels.
We have endorsed Jessica Cha, a local family law attorney, for Ward 1 and Juan Villegas, a law enforcement officer with over 26 years experience, for Ward 5. The incumbents they are running against, Vince Sarmiento in Ward 1 and Roman Reyna in Ward 5, have utterly failed this city. And to make matters worse these incumbents have placed a measure on the Nov. ballot, Measure PP, that will ask us to give them a 700% raise. Unbelievable! Dump these ridiculous incumbents!