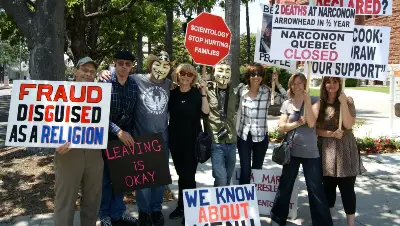 While the grand opening of the new Orange County Church of Scientology's Santa Ana Ideal Org was well attended and very well orchestrated, there were a few detractors – including at least one disgruntled member of the local media.
The anti-Scientology protesters have their own website, here.
Josh Dulaney, a reporter at the OC Weekly, wrote that he was not invited to the grand opening of the Santa Ana ideal org, here, but the Churck of Scientology did contact many of us in the media today to see if we wanted to have a look at the new facility.  I was tied up in Little League activities yesterday and a Cub Scout meeting today, but I have an open invitation to visit their building next weekend.
I am told that the Santa Ana ideal org has a lot of plans to reach out to the local community, including an upcoming Quinceañera fashion show.
The Church of Scientology did a great job remodeling their historic building in Downtown Santa Ana.  So far they seem like a great addition to our Downtown.
I wonder if they know however that Don Cribb, the founder of the Santa Ana Artists Village, is now calling for a ban on all churches in our Downtown area?