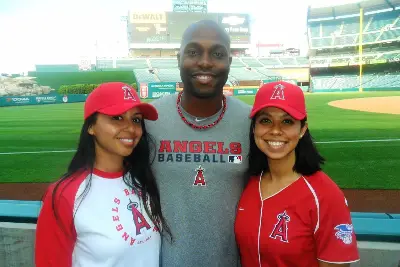 Orange County District Attorney, Press Release
For Immediate Release: June 1, 2012
Contacts:
Susan Kang Schroeder, Chief of Staff, Office: 714-347-8408, Cell: 714-292-2718
Farrah Emami, Spokesperson, Office: 714-347-8405, Cell: 714-323-4486
*STUDENTS HIT ANTI-GANG CHALLENGE OUT OF THE BALLPARK*
ANGELS HOST OVER 1,200 AT-RISK STUDENTS AT BASEBALL GAME IN PARTNERSHIP WITH LAW ENFORCEMENT TO KEEP KIDS IN SCHOOL AND OUT OF GANGS
*Media interested in attending this event are asked to arrive at Angel Stadium at 3:00 p.m. to obtain a press pass
ORANGE COUNTY – In an ongoing effort to keep children out of gangs, the Los Angeles Angels of Anaheim (Angels) will open their gates Monday, June 4, 2012, for the fourth consecutive year to over 1,200 at-risk students as a reward for improved behavior and for staying out of gangs. This is the largest-ever number of students to participate and succeed in the challenge.
The students will arrive at 3:00 p.m. and have early access to Angel Stadium, where they will be seated behind the dugout and have an opportunity to be greeted by a former Angels and National Baseball Hall of Fame player Rod Carew prior to the team's stretch and warm up. The game begins at 7:05 p.m. when the Angels face the Seattle Mariners.
More than 1,200 students, ages 9 to 13, in grades 4 through 8, will attend the game. They come from 34 schools, including 24 elementary schools, and 10 middle schools in the cities of Anaheim, Buena Park, Garden Grove, Mission Viejo, Orange, San Clemente, San Juan Capistrano, Santa Ana, Stanton, and unincorporated North Orange County. The names of the 34 schools will be displayed on the Angel Vision JumboTron during the game with a congratulatory message about the students' improvement in school. Representatives from Saddleback Church will entertain the students with games and prizes after the students watch the Angels' batting practice and prior to the start of the game. The students will receive meals provided by Aramark and the Anaheim Family Justice Center.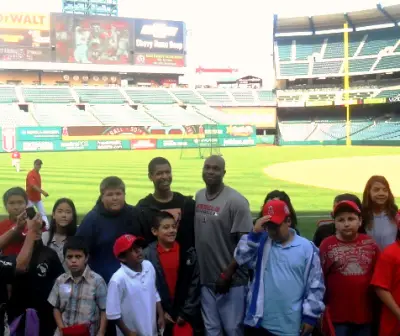 The students will be accompanied by 200 parent and teacher chaperones, all as guests of the Angels, who donated over 1,400 tickets and free parking for the fourth consecutive year in support of the anti-gang efforts by Orange County law enforcement and schools. This will be the largest VIP group ever hosted at Angel Stadium prior to the gates opening to the public before a game.
In September 2011, students with severe behavioral problems, including some with as many as 10 suspensions in one school year, were identified by the Orange County Gang Reduction and Intervention Partnership (OC GRIP) as being high-risk for gang exposure and activity. With an end-reward of attending an Angels game as a VIP guest, the students were challenged to complete the school year with improved attendance and grades, no suspensions, and involvement in positive after-school activities. In the last four years, schools involved with OC GRIP that were identified as the worst schools for attendance and test scores have now become the best schools in the district for attendance and test scores. Vandalism, suspension, expulsion, and crimes on these campuses have significantly decreased.
Over 75 law enforcement personnel are also expected to be in attendance to congratulate the students, including Anaheim Police Chief John Welter, Buena Park Police Chief Corey Sianez, Garden Grove Police Chief Kevin Rainey, Orange Police Chief Robert Gustafson, Orange County District Attorney (OCDA) Tony Rackauckas, OCDA Bureau Chief Jeff McLaughlin, Orange County Probation Chief Steve Sentman, Orange County Sheriff Sandra Hutchens, and Santa Ana Unified School District Chief David Valentin. Saddleback Church Pastor Rick Warren will also attend.
Remarks
"The Angels organization is once again pleased to be a part of the OC GRIP program. The growth and impact in such a short period of time is a testament to those involved in implementing the program as well as the children that have been affected," stated Angels Vice President of Communications Tim Mead. "GRIP is an extremely important project because the results can be measured immediately. It is important not only to the individuals involved but their communities as well. We are proud to team up with OC law enforcement agencies in this meaningful effort."
"We are grateful to the Angels for their commitment in investing in our children and community," said Orange County District Attorney Tony Rackauckas. "Every ticket given to a child means more than just an afternoon in the sun watching a baseball game. It will help them dream a little bigger and know that the right decision will lead to the right results."
"The Orange County Sheriff's Department proudly partners with the Los Angeles Angels on this important project. The collaboration with private organizations is what drives OC GRIP and makes the program a success," said Orange County Sheriff Sandra Hutchens. "The partnership with the Angels will strengthen OC GRIP now and into the future."
"The Probation Department remains committed to working with all of the collaboratives that make up the GRIP program," stated Orange County Probation Chief Steve Sentman. "The intervention and focus on education is the key to the success of this program. The GRIP program offers youths many opportunities to improve their performance, stress the importance of attending school and ultimately they are rewarded for their hard work and effort."
"GRIP is all about making a difference in the lives of troubled youth in our community. The partnership we have with the OC DA's Office, OC Probation Department, local school staff, and faith groups, is so extremely valuable," said Buena Park Police Chief Corey Sianez. "Our collaboration in working together with parents in an effort keep their children away from gangs will be rewarded in the future as gang crime is reduced and we see these youth become productive members in our communities."
"The Garden Grove Police Department is proud to be a partner in the Orange County GRIP. GRIP has a proven record of providing at-risk youth and their families with positive alternatives to gangs. In these times where resources for children and families continue to shrink, the pressures and issues that face many of our youth today grow," said Garden Grove Police Chief Kevin Raney. "GRIP provides valuable resources, information and incentives, such as Monday Night's Angel Game, that help show our youth there are much better alternatives to gangs. GRIP gives our youth an opportunity to make choices that will serve us all better in the future."
"The GRIP Program is a successful platform in identifying and reaching out to "at-risk" students who may be influenced to participate in gang activity. GRIP has been a catalyst which rallies together community based organizations and governmental agencies for the benefit of those students within our community. We have seen much success with students who have participated in this program and are proud of those who have earned the opportunity to attend the Angels baseball game," said Orange Police Chief Robert Gustafson.
"It is with great excitement and enthusiasm we announce, along with all of our Santa Ana GRIP partners, this tremendous opportunity to acknowledge the efforts of our students who have earned the baseball game incentive. We appreciate all their individual hard work, and a special thanks to the Los Angeles Angels of Anaheim organization for this collaboration," said Santa Ana Unified School District Police Chief David Valentin. "As we wrap up our first year of the Santa Ana GRIP program, we reflect on our collective success impacting young lives."
"Saddleback Church is proud to be a partner with GRIP through the Orange County District Attorney's office and Orange County School Districts. Thank you to the Los Angeles Angels and the Orange County Sheriffs for all the work they put in to make this event successful," said Saddleback Church Pastor Rick Warren. "We look forward to this continuing partnership and to seeing the lives of these children change. Congratulations to all the children who worked so hard and are receiving this reward!"
###