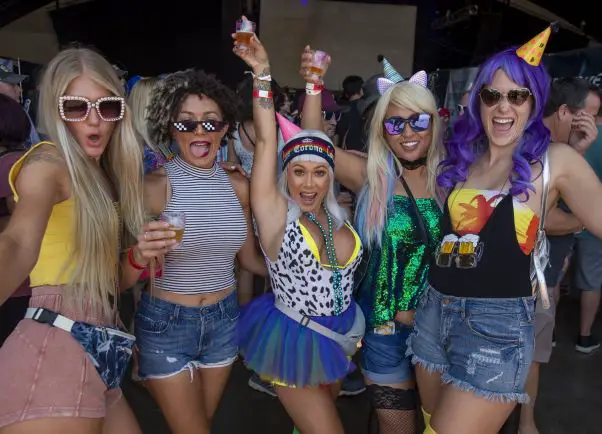 COSTA MESA (Feb, 21, 2023) – Tickets for the annual OC Fair are now on sale at ocfair.com, with advance purchase required and the new Every Day Passport is available offering fairgoers access any day with no restrictions.
The 2023 Fair will run July 14-Aug. 13, open Wednesday through Sunday with controlled capacity. This year's theme is "Happy Together."
General admission ticket prices are $13 weekdays (Wednesday, Thursday) and $15 on weekends (Friday, Saturday, Sunday). Admission for seniors (60+) and youth (ages 6-12) is $9 every day and children 5 and younger are free. The OC Fair will cover the online admission ticket fees. Daily admission is restricted to 45,000 tickets. This is the third year the Fair has imposed a limited-capacity model and days are again expected to sell out. General parking is $12.
The new Every Day Passport gives fairgoers access to every day – and any day – of the Fair with no reservations or restrictions for one price of $60 and sales will be limited to 10,000 passports.
Controlled capacity gives fairgoers more elbow room, shorter lines and eases parking issues while reducing the impact on neighboring communities.
The Fair will open each day at 11 a.m. and close at 11 p.m. on Wednesday, Thursday and Sunday and midnight on Friday and Saturday. Fairgoers are asked to download or print their admission tickets prior to arriving to help move the lines along through the touchless screening system. The 2023 OC Fair app is in development and will help guests with their plans and purchases in advance. Carnival tickets are also available for online purchase now at ocfair.com/oc-fair/.
"Summer will be here before we know it and we're so excited to launch our 2023 OC Fair ticket sales, especially our new Every Day Passport. There is no better way to celebrate friends, family and community than at the OC Fair and we can't wait to welcome back our guests," said OC Fair CEO Michele Richards.
Shows in Pacific Amphitheatre, The Hangar and Action Sports Arena are on sale now and more will be added soon. Concerts include Dwight Yoakam, Midland, Chicago and Beck. Tickets are available at ticketmaster.com.
A special feature exhibit for 2023, "The Art of Music," will highlight album covers and artwork extolling the intersection of two key American art forms. Also on display will be community fine art and photography entries, home arts, woodworking, agriculture competitions and more.
For all those hoping to bring home a blue ribbon, the fair's competition program has undergone some changes, so it's important to check the competition guides on ocfair.com/competitions. The Junior Livestock Auction will take place on July 22.
The OC Fair is looking for local people to participate in the annual 2023 event. Community entertainment (unpaid) applications are being accepted at https://ocfair.com/oc-fair/be-a-part-of-the-fair/community-entertainment/. Applications for vendors and concessionaires are now open at https://ocfair.com/oc-fair/be-a-part-of-the-fair/vendors/.Sponsorship and marketing information is available at https://ocfair.com/oc-fair/sponsors/.
Also on display during the Fair at Heroes Hall will be Armed Only with a Camera: World War II Photography of Stanley Troutman. The SAAAB Story exhibit continues on the second floor educating visitors on the history of the Santa Ana Army Air Base. Admission is free with Fair entry.
The 2022 OC Fair had attendance of 1,055,173 with 11 sold-out days. The Fair returned to an in-person event in 2021 after going virtual in 2020.
About the OC Fair
OC Fair & Event Center in Costa Mesa, California, is home to the annual OC Fair. Year-round attractions include Centennial Farm, Table of Dignity, Heroes Hall and Pacific Amphitheatre. OC Fair & Event Center also hosts year-round events and cultural festival. For more information, visit ocfair.com.
Support of OC Fair & Event Center provides year-round educational opportunities and helps fund community give-back programs.