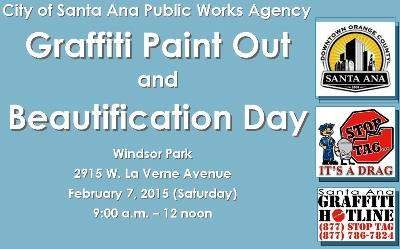 City of Santa Ana
Community Alert: Join the City of Santa Ana's Public Works Agency for their Community Graffiti Paint-out and Beautification Day
This is a combined effort by City-contracted graffiti removal crews and volunteers from the community. Mark your calendars for Saturday, February 7, 2015 from 9 am to noon. Water and healthy snacks will be provided. We'll provide the tools, gloves, paint and training. All you need to do is join us to help beautify our community.
The graffiti clean-up day will begin at Windsor Park, located at 2915 W. La Verne Ave., and will proceed throughout the park and the surrounding neighborhood.
Please note: Pre-registration is necessary by calling (714) 647-3306 or email graffiti@santa-ana.org on or before Wednesday, February 4, 2015. Parents must complete and sign the waiver so that their children and young adults can volunteer. Anyone between the age of 13 and 17 years old must have this waiver signed. Anyone under 13 years old must be accompanied by an adult.
We look forward to working with everyone on this event.
###