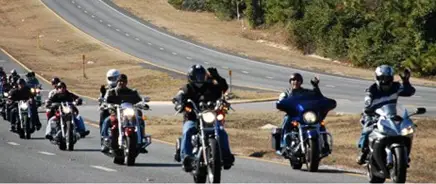 The 14th Annual Ride the Coast Motorcycle Ride and Blues Festival will kick into gear another year of fast-paced fun and excitement on Saturday, June 25, 2011. This 70-mile, police-escorted charity ride includes 10 miles of coast riding and free admission to the Irvine Lake Blues Festival. Promoted throughout all of Southern California, Ride the Coast brings motorcycle enthusiasts of all ages, occupations, shapes and sizes to Orange County for the most spectacular event on two wheels! Don't miss it!
Police escorted
70-mile ride – 10 miles along the Pacific Coast Highway
500-plus riders
Free admission to Irvine Lake Blues Festival
Music
Food
Raffles and giveaways
Fees:
$40 for riders
$30 for co-riders
Start Site: Santa Ana Auto Mall.
Registration begins at 8:30a.m.
Ride begins at 10a.m.
End Site: Irvine Lake Blues Festival
Riders and co-riders get in free
Non-riders may purchase tickets at the gate for $30
For more information visit: www.ridethecoast.com.  Click here to register online.
Contact: Rachel Grewe
Boys & Girls Club of Santa Ana
Events Staff
250 N. Golden Circle, Suite #104, Santa Ana, CA 92705
714-565-1098 (phone)
714-565-1099 (fax)
events@boysandgirlsclub.com