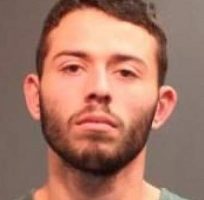 A third suspect in a Santa Ana cafe robbery, Marc Louis Gold of Fountain Valley, 21, was arrested Wednesday, according to the O.C. Register.
Gold was arrested at his home and booked on suspicion of robbery. He was supposedly the mastermind of a robbery that involved two other 17-year-old boys, whose names were not released because of their age, according to the SAPD. One of the teens, who lives in Westminster, turned himself in on Dec. 2, and the other teen, who lives in Santa Ana, was arrested on Thursday. The teens were booked at Juvenile Hall on suspicion of armed robbery.
The SAPD were tipped off about Gold by an O.C. Sheriff's detective, after the SAPD released a surveillance video of the robbery.
Gold apparently does this sort of thing for a living. He was in fact arrested recently for a similar robbery in Stanton on Nov. 26.
In the more recent robbery Gold allegedly was seated at the bar at the M&Toi Cafe at about 3:15 p.m. on Nov. 21 and he appeared to be texting on his cell phone. Then about a minute later the two other suspects arrived, with their faces covered by bandanas. They were armed with a gun and a knife.
The suspects initially demanded that a cafe employee open up the cafe's cash register then the first suspect that entered the cafe walked around the back side of the counter and he took cash from the register. They they all ran out and got away. Until now.