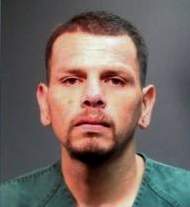 On Saturday, August 3, 2019, patrol officers located and arrested a subject wanted in connection with a series of commercial burglaries that have occurred in the Northeast area of Santa Ana, according to the SAPD.
The arrestee, identified as Raul Felipe Moreno, was booked into the Santa Ana Jail for burglary. A rash of burglaries in the Northeast commercial area of Santa Ana began in late May, 2019 shortly after suspect Moreno was released from custody on previous burglary charges. Based on their investigation, detectives were able to identify suspect Moreno through video and DNA evidence in multiple burglaries.
On August 6, 2019, the Orange County District Attorney's Office filed nine counts of commercial burglary against Moreno.
Burglary Detectives are continuing their investigation into Moreno, who they believe may be the suspect in as many as 30 commercial burglaries that have occurred in Northeast Santa Ana in the area of 4th Street/Golden Circle Drive.
Anyone who may have witnessed or has information about these burglaries is asked to contact Detective J. Garcia at (714) 245-8732 or JGarcia@santa-ana.org.