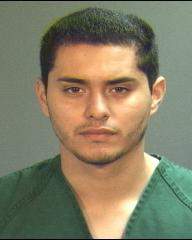 Santa Ana Police Department Advisory:
UPDATE: Arrest of suspect in Skyhi Clothing Beating
Arrestee: Alfonso Calderon, Age 21
On September 30, 2012 @ 0030, there was a party at Skyhi Clothing, 2701 S. Orange Ave #T Santa Ana, CA. Officers responded to a call of a party with loud music that resulted with police shutting the party down. After the officers left the location the victim got into an argument with the suspects. The argument escalated and the suspects began punching the victim in the face. One punch knocked the victim out, causing him to fall backwards, ultimately striking his head on the ground. The assault on the victim continued after he was knocked out. The suspects ultimately fled the scene. As a result from the assault the victim was in a coma for a couple weeks. He is currently out now from the coma, but is suffering from permanent brain damage.
Santa Ana Police Department requested assistance of media and the community in identifying the suspect in this crime. Through numerous tips received by Orange County Crime Stoppers detectives were able to identify a suspect in this case. Homicide detective arrested Alfonso Calderon at his girlfriend's residence in the city of Huntington Beach early this morning. He was transported to Santa Ana police department jail where he has been booked for CPC 245 Assault with a deadly weapon. His bail is set at $25,000.
###
SKYHI Clothing Co started in the winter of 2007 in Santa Ana, Ca. by two brothers Chris and Juan Garcia. Having two different styles they decided to collaborate both of their personalities into one. Chris being fashion forward and Juan being a computer graphic designer came up with the idea of SKYHI Clothing Co.
Being brought up in Orange County's playground it was inevitable to acquire a taste for the finer things in life. Living in the diverse streets of Santa Ana gave them the understanding of what streetwear is all about. Inspired by leading brands, SKYHI Clothing represents a dream, passion and lifestyle.