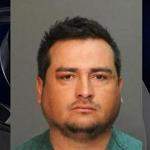 Santa Ana Police Department Advisory: Santa Ana Police make arrest in Vehicular Manslaughter case from 1-10-2013
On 01-10-13 at 6:38 AM, officers responded to a report of a male pedestrian (Miguel Chavez Ceja, 75 years old) lying in the roadway in the area of Orange Avenue and Stanford Street. The officers located an adult male pedestrian who had been struck by an unknown vehicle, which fled the scene. Paramedics responded to find the pedestrian had succumbed to his injuries at the scene.
Further investigation based on the roadway evidence at the scene, revealed that a dark blue, early model BMW 740iL may have been the vehicle involved. This information was passed on to the local media for distribution.
On 01-12-13 at 9:53 AM, a citizen saw a dark blue BMW 740iL at the intersection of First Street and Grand Avenue with consistent damage. The citizen followed the BMW until officers arrived in the area and stopped the vehicle near the intersection of Main Street and Columbine Avenue. A closer inspection of the BMW showed damage consistent with the debris that was recovered at the scene on the date of the collision.
The driver, identified as Victor Manuel Arredondo Anaya, was detained and transported to the station on suspicion of the fatal hit and run. A passenger, who was with Anaya at the time, also went to the police station voluntarily. Statements were obtained by both occupants. The passenger was released without action. Victor Anaya was booked at the Santa Ana Jail for Vehicular Manslaughter, felony Hit ans Run, and driving on a license suspended for DUI. A filing with then Orange County District Attorney's Office is pending.
###
For full details, view this message on the web.