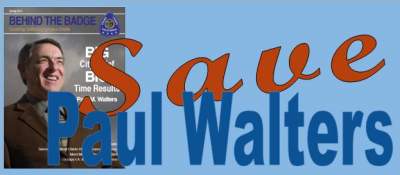 You can now express your support for our great City Manager, Paul Walters, on a new blog and on a new Facebook page. And be sure to show up to the next Santa Ana City Council meeting, on Tuesday, Jan. 22, at 5 pm, to speak up for Walters.  Bring signs and tell your friends and neighbors.
Our ridiculous Santa Ana City Council majority continues to wage war on Walters, who saved our city from a horrible budget crisis last year.  Why isn't the Council focusing on the problems our city faces?  Where are their good ideas?  These insane people would rather bring down one of Orange County's best public administrators than work to improve Santa Ana.
A recall of Santa Ana Council Member Michele Martinez is now underway and it may widen to include more Council Members.  They have been harassing Walters to no end and trying to force him out even though he has an airtight contract that they approved unanimously just last year.
Let's take a stand for Walters and show the Council that we the people run this city and the Council answers to us!