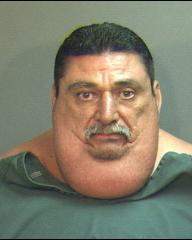 Santa Ana Police Department Advisory:
Suspect arrested after grabbing a child on his way to a park for soccer practice
Location: Delhi Park (Park) 505 E. Central
Arrested, Victor Joseph Espinoza, 55 of Santa Ana
Summary: On 10/4/2012 at 1923 hours, officers were dispatched to 505 E. Central, regarding an adult male who was trying to kidnap a 10-yr-old male. The call stated that a soccer coach was trying, unsuccessfully, to detain the male suspect. When officers arrived, the 425 lb. suspect had escaped; he was located by the helicopter, hiding in a rear yard in the 5oo block of E. Central. The suspect was taken into custody without incident, but he had minor injuries from his contact with the soccer coach.
The investigation revealed that the 10 year old victim was going to soccer practice with his 19 year female cousin, when the suspect, who the victim did not know, lured the victim close enough to grab him. The boy yelled for help and tried to pull away, but the suspect would not let him go. The victim was able to break free and he and his cousin ran to the park telling the soccer coach what had occurred. The coach located the suspect in front of the park. When the suspect saw the coach he attempted to flee and was tackled by the coach in the street. The Coach attempted to detain the suspect until officers arrived however was unable to. The suspect ran into the back yard of a residence in the 500 block of east Central where he was found and arrested.
The arrestee was booked for False Imprisonment, child annoying, and gang enhancements, as he was a documented gang member.