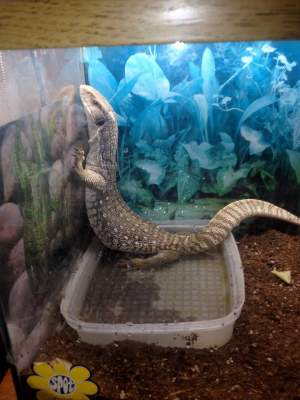 A Savannah Monitor Lizard was found basking in the sun and eating tomatoes in a backyard in Santa Ana's Park Santiago Neighborhood, which is north of the 5 Freeway and not far from the MainPlace Mall.
He seems to be well taken care of aside from a minor injury on his head.
If he is yours, please send a message via Facebook to Tina Andres. She will take care of him until the owner is found.
The savannah monitor (Varanus exanthematicus) is a medium sized species of monitor lizard native to Africa. The species is known as Bosc's monitor in Europe, since French scientist Louis Bosc first described the species.[1] It belongs to the subgenus Polydaedalus, along with the Nile, the ornate and other monitors, according to Wikipedia.
These lizards are worth about fifty dollars according to an online source.