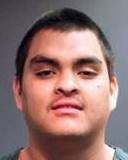 Oscar Freddie Torres, a 19-year-old Santa Ana gang member, was sentenced to seven years in prison on Friday, for shooting at SAPD police officers who were responding to a domestic dispute, according to the O.C. Register.

Torres was able to avoid attempted murder charges by pleading guilty on Nov. 29 to grossly negligent discharge of a firearm. Torres still got a lengthy prison sentence because he also admitted to sentencing enhancement allegations regarding the personal use of a firearm and criminal street gang activity.
Also dismissed was a charge of assault with a weapon not a firearm on a peace officer.
SAPD police officers were called to a residence at the 400 block of South Hesperian Street just before 4:45 p.m. on Aug. 13, to handle a "family disturbance." When the police officers arrived, Torres opened fire in their direction multiple times, but they did not return fire and they were able to escape injury. Torres took off, but he was later arrested at his nearby residence.