City of Santa Ana, Downtown Orange County Community Alert: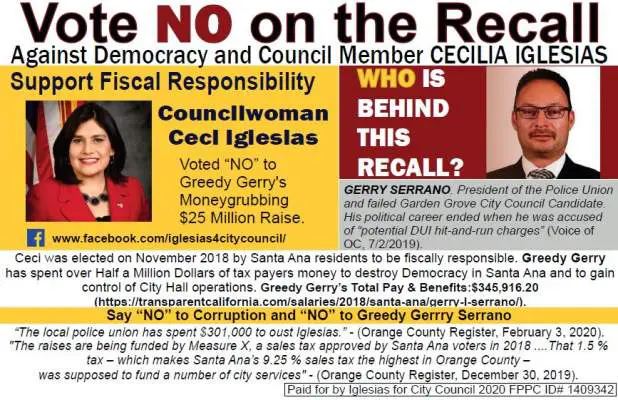 Voter Registration Deadline and Popular Drive-Thru Services Return
Isn't it time for Santa Ana to have a voice on the O.C. Board of Supervisors?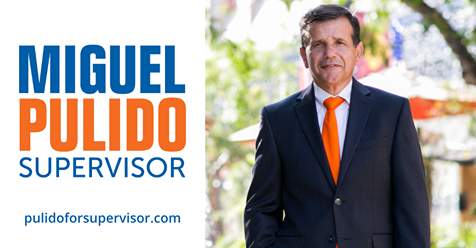 Paid for by Miguel A. Pulido for Supervisor 2020 (ID #1422663)
SANTA ANA, CA (October 21, 2012) – The deadline to register to vote in the November 6, 2012 Presidential Election is Monday, October 22, 2012. In an effort to provide greater flexibility for citizens to participate in the election, the Orange County Registrar of Voters will remain open until midnight on the 22nd to provide drive-thru voting and registration.
Advertisement
Is your employer a mess? Call Sasooness.
In the state of California for every 5 hours worked an employee must get a 30 minute, uninterrupted lunch break. For every 3 hours worked an employee must get an uninterrupted 10-minute rest break. Working over 8 hours in a day or 40 hours in a week is due overtime. Don't let your employer screw you! Give us a call at 323 746-8099.
En el estado de California por cada 5 horas de trabajo su patrón le debe permitir tener un receso de media hora sin interrupciones. Si trabaja más de 8 horas en un día o más de 40 horas de trabajo en una semana su patrón le debe pagar tiempo y medio. No deje que su patrón abuse de su trabajo. No importa que no tenga papeles. Usted tiene derechos. Llamenos al 323 746-8099.
The Registrar of Voters is excited to bring back drive-thru voting and registration, a popular option for voters when first introduced in 2008. Last minute voter registrations will be processed through 12:00 a.m. and a full range of services will be available to voters in Santa Ana.
"We are gearing up for a high voter turnout as we process thousands of voter registrations a day," said Neal Kelley, Registrar of Voters. "We want to ensure that everyone that wishes to participate is given the opportunity to do so", he continued.
When: Monday, October 22, 2012 5:00 p.m. to 12:00 a.m.
Citizens that wish to register or vote at the Registrar of Voters during normal business hours (8:00 a.m. to 5:00 p.m.) may do so in their lobby or at the Santa Ana Clerk of the Council Office, 20 Civic Center Plaza, 8th Floor City Hall, Santa Ana, CA during regular business hours.
Where: 1300 South Grand Avenue , Bldg. C Santa Ana, California Corner of Grand Avenue and McFadden (OC Registrar Office)
How: Any eligible citizen may register to vote. Any registered voter in Orange County may vote at the Registrar of Voters' office.
Broadcast Visuals: County operation center parking lot 565 feet in length – fully lit with electronic traffic control signs and multiple lanes for vehicles – voters voting and citizens registering to vote.
# # #