Isn't it time for Santa Ana to have a voice on the O.C. Board of Supervisors?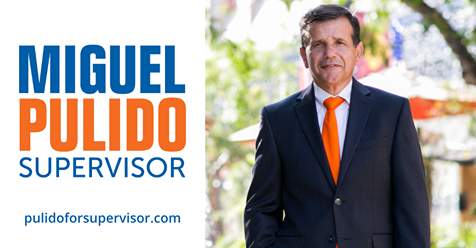 Paid for by Miguel A. Pulido for Supervisor 2020 (ID #1422663)
City of Santa Ana
Community Alert: Help Develop the Vision for Future Transportation Opportunities: Central Harbor Blvd Transit Corridor Study
Advertisements
Advertisement
The Two Essential Aspects to Every Personal Injury Case: Liability & Damages
If you've been injured and you're not sure you have a case, give us a call 323 746-8099. Our team at Sasooness Law Group will give your case the personal attention it deserves. We work with motorcycle accidents, car accidents, uber/lyft accidents, scooter accidents, and more.
Si usted ha sido lastimado y no está seguro de tener un caso, llamenos al 323 746-8099. Nuestro equipo en Sasooness Law Group le atenderá su caso completamente en Español. Nosotros trabajamos con accidente de auto, accidente de uber/lyft, accidentes de moto, y mas.
@ Sasooness Law Group https://www.facebook.com/SasoonessLawGroup/
The Orange County Transportation Authority is partnering with the cities of Santa Ana, Garden Grove, Anaheim and Fullerton for the Central Harbor Blvd. Transit Corridor Study to envision the future of transit on Harbor Blvd.
Harbor Blvd. provides a vital north-south connection linking residents, businesses, schools and visitor destinations and has the distinction of being the busiest bus routes in the County.
While the City of Santa Ana is participating in the study, we hope that individual members will take the time to participate too, please consider attending an open house to learn about the current challenges and future opportunities to improve transit on Harbor Blvd. The open houses will be identical and you are welcome to drop in any time. The meetings will be held on:
Wednesday, February 24
5:00 to 8:00 p.m.
Fullerton Community Center
340 W. Commonwealth Ave.
Fullerton, CA
Thursday, February 25
5:00 to 8:00 p.m.
Garden Grove High School (Multipurpose Room)
11271 Stanford Ave.
Garden Grove, CA
More information can be found by visiting www.octa.net/harbor and an online survey will also be available starting February 24.