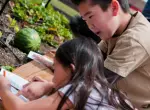 FOR IMMEDIATE RELEASE: OCTOBER 26, 2010
CONTACT: JENN STARNES, 949-724-6574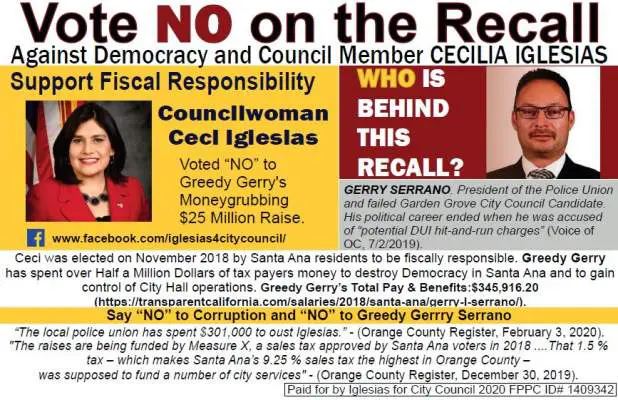 Great Park to Partner with ScottsMiracle-Gro
Sponsorship to benefit Great Park Farm Programs
Isn't it time for Santa Ana to have a voice on the O.C. Board of Supervisors?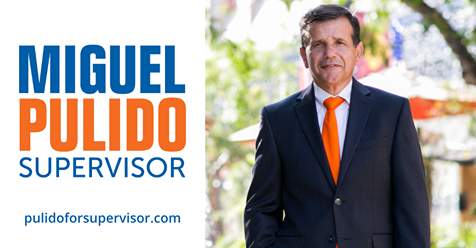 Paid for by Miguel A. Pulido for Supervisor 2020 (ID #1422663)
IRVINE – The Orange County Great Park Board approved a plan to negotiate a partnership with The Scotts Company LLC to benefit educational and garden programming at the Park. The sponsorship agreement will provide for payments and product support totaling $150,000 per year for the Great Park Farm and Food Lab and Community Garden Project over the next five years, for a total value of $750,000. The Board voted unanimously October 21 to allow Corporation officials to negotiate the agreement with Scotts.
Advertisement
Is your employer a mess? Call Sasooness.
In the state of California for every 5 hours worked an employee must get a 30 minute, uninterrupted lunch break. For every 3 hours worked an employee must get an uninterrupted 10-minute rest break. Working over 8 hours in a day or 40 hours in a week is due overtime. Don't let your employer screw you! Give us a call at 323 746-8099.
En el estado de California por cada 5 horas de trabajo su patrón le debe permitir tener un receso de media hora sin interrupciones. Si trabaja más de 8 horas en un día o más de 40 horas de trabajo en una semana su patrón le debe pagar tiempo y medio. No deje que su patrón abuse de su trabajo. No importa que no tenga papeles. Usted tiene derechos. Llamenos al 323 746-8099.
"We are excited to build a partnership with Scotts to enhance the agriculture education and programs Great Park brings to Orange County residents," said Larry Agran, Chair of the Orange County Great Park Corporation. "This public/private partnership is emblematic of the community support drawn by the Great Park project."
The Great Park's 2-acre Farm and Food Lab opened in 2009 and has hosted dozens of free special events, including garden workshops taught by the University of California Cooperative Extension Master Gardeners.
"We are proud to have our Western Region headquarters located in the City of Irvine in Orange County," said Phil Jones, Western Region President, Scotts. "The partnership between Scotts and the Orange County Great Park is an opportunity to enhance our garden and green space education and community outreach." Scotts also supports other local philanthropic initiatives throughout Southern California.
Agriculture and farming education is an integral part of the Great Park experience. The Great Park Farm & Food Lab is an educational garden that benefits local food banks. The Farm and Food Lab is open on weekends, and is home to garden workshops hosted by the University of California Cooperative Extension Master Gardeners. The Great Park Farm, 114 acres leased to Orange County Produce, will soon have its first harvest, and the Great Park Farmers Market will debut October 31.
About ScottsMiracle-Gro
With approximately $3 billion in worldwide sales and more than 8,000 associates, The ScottsMiracle-Gro Company, through its wholly-owned subsidiary, The Scotts Company LLC, is the world's largest marketer of branded consumer products for lawn and garden care, with products for professional horticulture as well. The Company's brands are the most recognized in the industry In the U.S., the Company's Scotts®, Miracle-Gro®, Ortho® Whitney Farms® brands are market-leading in their categories, as is the consumer Roundup® brand, which is marketed in North America and most of Europe exclusively by Scotts and owned by Monsanto. In the U.S., the Company operates Scotts LawnService®, the second largest residential lawn care service business. In Europe, the Company's brands include Weedol®, Pathclear®, Evergreen®, Levington®, Miracle-Gro®, KB®, Fertiligene® and Substral®. For additional information, visit us at www.scotts.com.
About the Great Park
The Orange County Great Park, with its 1,347-acre master plan, is the focal point of the redevelopment of the publicly-owned portion of the 4,700-acre former Marine Corps Air Station, El Toro. The Great Park is currently 27.5 acres and includes an iconic tethered helium balloon that rises 400 feet in the air, providing an aerial view of Park development. A $70 million development plan to expand the Park to more than 200 acres is currently underway. The plan will build out a core section of the Park for the most immediate and wide-ranging public benefit, including the initial components of the sports park, a 114-acre agricultural area, and an art and culture exhibition space. For more information, please go to www.ocgp.org.
###