Isn't it time for Santa Ana to have a voice on the O.C. Board of Supervisors?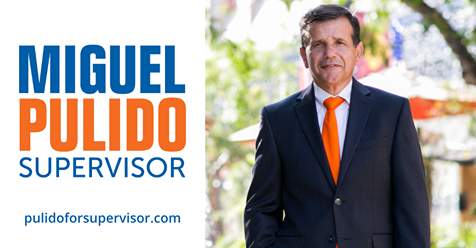 Paid for by Miguel A. Pulido for Supervisor 2020 (ID #1422663)
A Día de Diálogo/Dialogue Day has been set for May 24, from 6 pm to 9 pm, at the Santa Anita Center, located at 300 S. Figueroa St., in Santa Ana.
Help Write a Play by Sharing Your Stories!

We need to hear from the people of Santa Ana:

What are your dreams, concerns, hopes and local history?

What does it mean to live in Santa Ana?

Talk with playwright José Cruz González 
Everyone Is Welcome!  Spanish & English speakers. All ages.
Advertisements
Advertisement
The Two Essential Aspects to Every Personal Injury Case: Liability & Damages
If you've been injured and you're not sure you have a case, give us a call 323 746-8099. Our team at Sasooness Law Group will give your case the personal attention it deserves. We work with motorcycle accidents, car accidents, uber/lyft accidents, scooter accidents, and more.
Si usted ha sido lastimado y no está seguro de tener un caso, llamenos al 323 746-8099. Nuestro equipo en Sasooness Law Group le atenderá su caso completamente en Español. Nosotros trabajamos con accidente de auto, accidente de uber/lyft, accidentes de moto, y mas.
@ Sasooness Law Group https://www.facebook.com/SasoonessLawGroup/
No theatre experience necessary. Food, refreshments and childcare provided.  714-708-5843, dialogos@scr.org, http://scr.org/dialogos, http://facebook.com/scrdialogos, http://twitter.com/scrdialogos
The residents of Santa Ana, Latino Health Access and South Coast Repertory are working together to create a play. Dialogue/Diálogos is funded by a grant from The James Irvine Foundation.