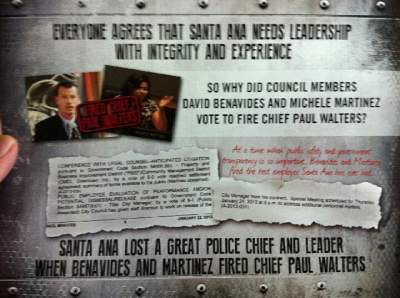 It figures that Benavides and Martinez have dirty campaign donors
As of Oct. 18, the committee Santa Ana Neighbors for Ethical Government, opposing Pulido for Mayor, reported receiving $56,250. Major contributions during the Oct.1-18 period include $5,000 from Attorney Robin L. Rosenzweig of Beverly Hills; $2,600 from Brian Dror of Barak Richter & Dror; and $2,250 from Jeremy Ogulnick of Los Angeles, according to the OC Register.
It is ironic that these people are using the word ethical to describe their activities.  Jeremy Ogulnick is related to high density apartment developer Ryan Ogulnick, who is mad because Mayor Miguel Pulido doesn't want to approve any more high density apartment developments in our city.  So the Ogulnick family is attacking Pulido since his opponent, Roman Reyna, has already sold out to these developers.
As for Attorney Robin L. Rosenzweig, she is the wife of a Los Angeles venture capitalist named Elliott Broidy, who has over the years won California government contracts worth tens of millions of dollars, by showering his personal fortune on officeholders and candidates.
Search for Broidy's name online and you will find some amazing evidence of his corruption: Continue reading→