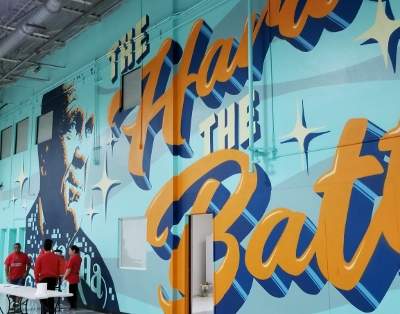 There are 28 stars painted on the walls of Santa Ana's new homeless shelter, which has been named "The Link." The stars represent the amazingly short time it took to open this new shelter – 28 days.
I toured the new shelter yesterday evening as the developer, Ryan Ogulnick, proudly showed me what his company, VDC, built so quickly, at a warehouse located at Warner and Redhill.
Ogulnick took action when he saw how many homeless people were living at Santa Ana's Civic Center. The project was born out of the urgency created when U.S. District Judge David O. Carter pushed the entire County to do something about this crisis.
The Link features 200 beds that will accommodate Santa Ana's homeless men, women and families. There are four dormitories, family rooms, full bathrooms and showers and even a room for pets.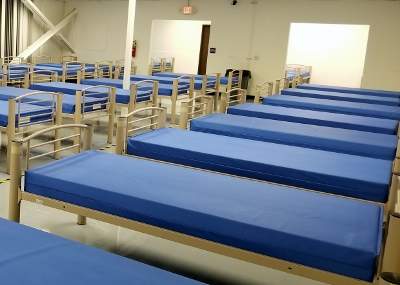 How did Ogulnick launch this project in a month? Santa Ana's Planning Department is not exactly known for being easy to work with. He said that when he approached the city he told them that they were going to have to work with him if they wanted this project to get done. The city embedded planning inspectors in the project and Ogulnick paid 50 workers to work 16-hour days, 7-days a week, to get The Link up and running.
At one point the project hit a snag when they were trying to figure out how to quickly saw cut the concrete in order to install plumbing needed for the bathrooms/showers. They got around this by concealing the pipes under a ramp leading to the bathrooms/showers. That was a double-win as it also accommodated the homeless residents who use wheelchairs.
The Link is operated by a non-profit, the Mercy House. Their employees work around the clock to help the homeless residents to transition into permanent housing, address their medical and mental health needs and look for employment opportunities.
The homeless residents receive three meals, and a snack, daily. There is also a laundry facility onsite – but the residents' clothing is laundered for them. They don't have to do this work themselves.
Ogulnick is not going to profit from this enterprise. He is donating the rental receipts to ongoing efforts to help the homeless. Ogulnick said after the shelter closes in two years or so, he plans to redevelop the property with multi-family housing and retail space.
About Mercy House
Mercy House provides housing and comprehensive supportive services for a variety of homeless populations which includes families, adult men and women, mothers and their children, persons living with HIV/AIDS, individuals overcoming substance addictions, and some who are physically and mentally disabled. They strive to assist residents in the areas of economic, emotional, and spiritual well-being in order to enhance self-esteem and a sense of personal pride. Mercy House values accountability, integrity, and self-sufficiency. The dignity of the individual person and the corresponding respect that follows is the guiding principle of their service to the homeless person.