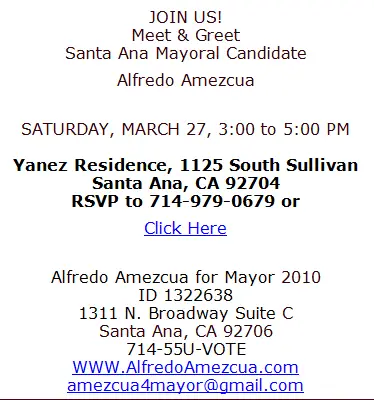 When Nelida Yanez ran for the Santa Ana City Council in 2006, she enjoyed the support of Santa Ana Council Members Sal Tinajero and Claudia Alvarez.  Yanez lost, with 34% of the vote, according to Smart Voter.
Now Nelida, and her husband Joe, have turned on their former allies and are supporting the mayoral campaign of Alfredo Amezcua, who is challenging incumbent Mayor Miguel Pulido.
The Yanez family is hosting a fundraiser for Amezcua on March 27, from 3-5 pm, at 1125 South Sullivan, in Santa Ana.  See the graphic above for RSVP info.
To further convolute things, the supporters of the guy who beat Yanez in 2006, David Benavides, are now supporting Amezcua as well.  These supporters include Thomas Gordon, who is also running for the Santa Ana City Council this year. Continue reading→