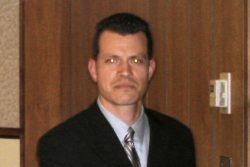 The Santa Ana City Council wisely pulled the awarding of a Certificate of Recognition at tonight's meeting to a group of folks that included individuals with ties to the Minuteman Project and other hate groups.  Councilman David Benavides who put forth the honor was said to be quite upset that the other councilmembers refused to support the award. 
Benavides left the meeting before any official business was conducted because the council chose not to recognize those involved in an Independence Day event held at the Santa Ana Library on July 3rd.  At the event, which was organized by Minuteman supporter Lupe Moreno and others, some of those involved with running it were videotaped referring to Latino's as "wetbacks".
You can read all about the event and watch the video of that haters in action by clicking here.
Let me be clear not all of those being honored by the proclamation tonight have ties to these hate groups or right-wing extremist organizations however they must all surely be aware of Moreno's activities and involvement with such racists.  As a result of their complicity the community needs to question and scrutinize these individuals and the organizations they represent.
Moreno used the "Friends of the Library" as the front to get city support for this event.  Given the actions of Moreno's cohorts at this event perhaps the "Friends" should rethink their ties to Ms. Moreno or the city should rethink their ties to the "Friends".
I would like to personally thank Mayor Miguel Pulido, Mayor Pro Tem Claudia Alvarez, Councilman Vince Sarmiento and especially thank Councilman Sal Tinajero and Councilwoman Michele Martinez for standing up and putting a stop to this outrageous award to known haters.  What on earth was Councilman Benavides thinking?