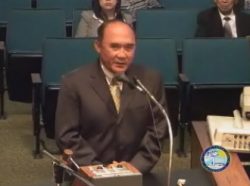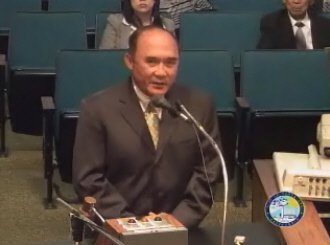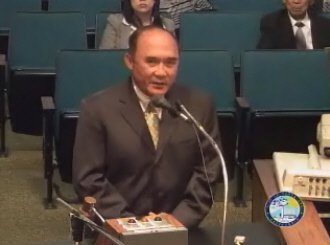 Santa Ana Parks and Recreation Commissioner Kenneth Nguyen
Santa Ana Parks and Recreation Commissioner Kenneth Nguyen was honored by Councilman Vince Sarmiento and his peers on the City Council tonight for being elected to serve in External Affairs with a Vietnamese community organization.  According to Sarmiento, this organization held a vote and 18,000 members cast ballots, and Nguyen was one of the officers elected to represent his community.
Sarmiento proposed tonight that Nguyen also act as an ambassador for our city, to his community.  Sarmiento noted that Nguyen has helped to bring a lot of businesses to our city.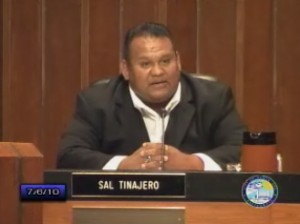 Councilman Sal Tinajero
Councilman Sal Tinajero seconded the motion and he also took the opportunity to praise Nguyen, as did Mayor Miguel Pulido, who expressed a lot of confidence in Nguyen.
Nguyen said that Little Saigon actually started in Santa Ana in 1978.  He said the first Viet supermarket was built here in town as was the first Budhist Temple, which later moved to Westminster.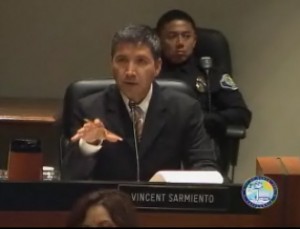 Councilman Vince Sarmiento
Nguyen also said that a 5 ton jade Buddha statue will be displayed at Santa Ana's only temple, in October.
Here is the agenda item in question:
EXPAND BOARD OF RECREATION AND PARKS DUTIES
RECOMMENDED ACTION: Pursuant to Charter Section 908(a) direct the Board of Recreation and Parks to undertake a  continuing effort to expand the City's cultural partnership with the Vietnamese-American Community in Santa Ana and Southern California, and request Commissioner Ken Nguyen, in his role as a Board Member, to head that effort as Ambassador to the Vietnamese-American Community on behalf of the Board and the City.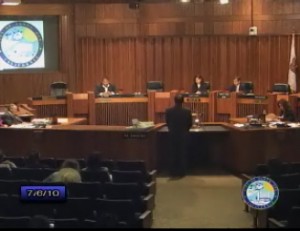 Parks and Recreation Commissioner Kenneth Nguyen, speaking to the Santa Ana City Council
I recently wrote a post about how the Viet voters in town may well decide who becomes our next Mayor.  Tonight's Council action underscores my premise that Mayor Pulido has a virtual lock on this growing segment of our community.
Sarmiento in fact noted in his comments tonight that there are at least 20,000 Vietnamese residents in town, and he suspects that number will be much higher when the new Census figures are released.