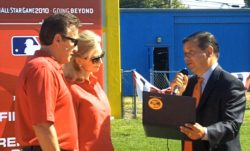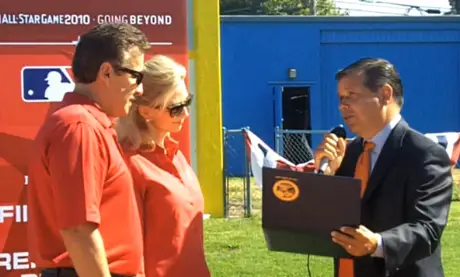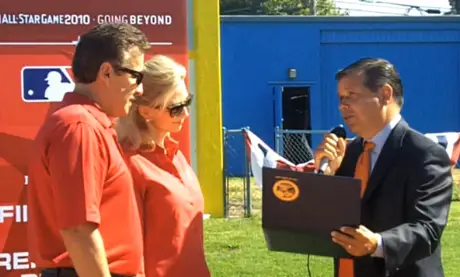 Santa Ana Mayor Miguel Pulido and State Senator Lou Correa welcomed the Los Angeles Angels of Anaheim and their owner, Arte Moreno, just before this week's MLB All-Star Game, to help renovate the Santa Ana Boys & Girls Club.  Here are a few excerpts from a post on the Angel's website about this wonderful charitable effort:
Hours before the 81st MLB All-Star Game on Tuesday at Angel Stadium, Major League Baseball, the Angels and the city of Santa Ana put the finishing touches on the renovations of the Boys & Girls Club of Santa Ana, as part of the festivities of 2010 MLB All-Star Week.

It was a fun day for all involved, and major renovations were made to the club, including a newly constructed baseball and softball field, a baseball-themed mural on the field's outer edges, the planting of an organic/peace garden, renovations to a multi-purpose room and various other activities on the grounds and facility.
It was all part of MLB's "Going Beyond" initiative, which is expected to raise $5 million for local and national charities as part of MLB's All-Star Week in Anaheim and the surrounding areas. And it couldn't have been done without the help of the Angels and the Angels Baseball Foundation, which was created by Angels owner Arte Moreno in 2004.

The Boys & Girls Club of Santa Ana has a big impact in the community, as it has impacted more than 70,000 lives since 1954, and serves approximately 900 youth from Santa Ana daily.
You can read more about this charitable event at this link.  And watch a video about it at this link.  And see a lot more pictures on the Santa Ana Boys & Girls Club Facebook page, at this link.