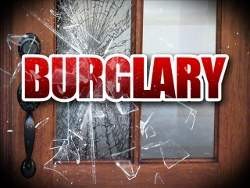 A man suspected of burglary who attempted to hide inside a 7-Eleven located at 2745 W. McFadden Ave., was arrested late Thursday, June 15, after he crashed through the store's ceiling tiles, according to the O.C. Register.
The suspect had apparently broken into several apartments at a complex located at  2701 W. McFadden Ave., at around 11 p.m., according to the SAPD.
The suspect apparently headed to the nearby 7-Eleven store after breaking into the apartments. He hid inside a storage room at the store. When the police officers entered the store they figured out that the suspect had crawled up into the ceiling – which was not designed to bear human weight. Sure enough a few moments later the man crashed through the ceiling tiles and landed in an aisle in the store.
The suspect was arrested. The SAPD did not release his name or indicate if he was injured when he fell. Nor were the charges against him made known.
This incident happened in Santa Ana's Ward 6, which is represented by Councilman Sal Tinajero.