As voters we sometimes fail to recognize that electing someone to represent us on any elective body, such as the Santa Ana City Council or the Santa Ana Unified School District's Board of Education, is similar to hiring someone to work for us. We are entrusting these candidates to do right by the community.
But if you were hiring someone to work for you, would you consider the folks who are running for local office in Santa Ana this year? In that case what factors would you weigh in trying to determine who to support for local offices?
For example education and work experience are two factors we always consider when hiring someone. But these are factors that can be ignored when we are voting. Consider for example the two men who are running for Ward 4 on the Santa Ana City Council.
Former Santa Ana Planning Commissioner Phil Bacerra has a degree in Planning from USC and he works as a land use consultant. You can check out his Linkedin page here. Those are excellent qualifications for a City Council candidate!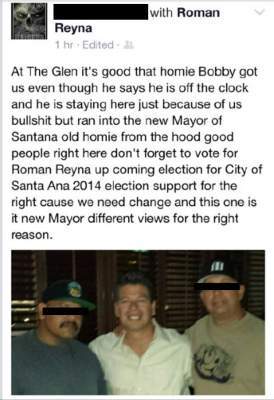 Bacerra's sole opponent for Ward 4 is former Santa Ana City Councilman Roman Reyna who was soundly rejected by the voters the last time he ran for Ward 5 a couple years ago. Reyna was defeated back then by current City Councilman Juan Villegas, who works in law enforcement.
Reyna lost his last City Council seat in great part because a picture of him with two alleged members of the Mexican Mafia appeared in social media and Reyna steadfastly refused to explain himself. To this day he has yet to tell anyone why he posed with such characters.
Reyna's Linkedin page still notes that he works as a City Councilman. Perhaps that is wishful thinking? More likely he simply has not updated the page – an indication that he is quite likely underemployed at the moment.
Reyna's Linkedin Page also notes that he attended Springfield College – an online mail order school, but no college degree is noted. His only listed work experience is his past service on the Santa Ana City Council.
There is a lot more competition over in Ward 2 where there are six candidates on the ballot. Several of them have business experience including Miguel "Mike" Gonzalez, David Penaloza, Sandra Sarmiento and Paul Gonzales. And three of them have significant community experience, including Gonzalez, Sarmiento and Irma Macias. However when considering these candidates you also want to consider how they treat the public. Isn't that something you would take into account when hiring someone?
I have found Paul Gonzales in particular to be easily triggered. He is part of an extremely unhinged and liberal faction in Santa Ana that seems to be perpetually peeved and angry. These folks are rude to anyone that they disagree with!
What Gonzales may have forgotten is that if he wins he will have to represent everyone in Santa Ana – not just those he agrees with.
Several of the other Ward 2 candidates are really great with the public. In fact most of them are! As our City Council Members represent our city, isn't that important?
It should also be noted that Gonzalez is the only Ward 2 candidate with significant experience opening and managing businesses in our city.
There are a few Council Members who are polite to everyone regardless of whether they agree with them. I am referring to Mayor Miguel Pulido and Council Members Michele Martinez, Jose Solorio and Juan Villegas.
How we treat the public is a very important consideration indeed and unfortunately both Gonzales and Reyna have a history of being rude to constituents they don't agree with. Of the two of them Reyna is more affable but he and his faction have become noticeably more strident and partisan in the past few years.
That brings me to our mayoral candidates. As noted above longtime Santa Ana Mayor Miguel Pulido is the epitome of class. I have never seen him berate anyone in public. He is polite to anyone that approaches him.
I can't say that about Pulido's challenger, City Councilman Sal Tinajero. I have known Tinajero for many years. He was much easier to get a long with a few years ago. He seems to be increasingly disturbed and angry now.
What changed? I am not sure but Tinajero is terming out of the City Council this year. His back is up against the wall. Pulido will term out in two years.
Perhaps Tinajero's desperation to stay in office has led to him becoming less friendly? It is ironic that he likes to complain about Pulido's 24 years in office – yet Tinajero is backing John Palacio for the SAUSD School Board even though Palacio has been in office for 20 years!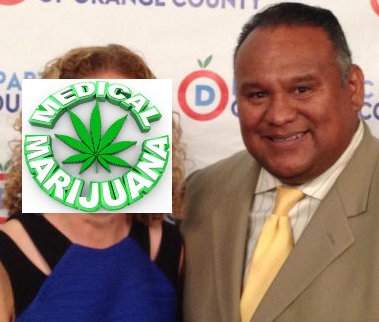 Tinajero by the way is a longtime schoolteacher, which is great. But now we are told that he has also become an investor in the marijuana industry. We find that objectionable as this drug is still illegal on a federal basis although it has been legalized here in California.
It should also be noted that Tinajero is the architect of Santa Ana's Measure X which will raise our city's sales tax to the highest level in Orange County. Every single candidate for the City Council this year is opposing Tinajero's Measure X. What does that tell you?
Over in Ward 6 we have three women running. They all have business experience. However one of them, Nelida Mendoza, voted to involve the Rancho Santiago Community College District, which she represents as a Trustee, in an awful deal with the murderous regime in Saudi Arabia. I think we can all agree that hiring folks that have made such bad decisions is a very bad idea indeed! The other two candidates are Ceci Iglesias, a businesswoman and an elected SAUSD School Board Member; and Mirna Velasquez, a businesswoman who previously ran for the City Council in Ward 2, then moved to Tustin, then came back to Santa Ana to run for Ward 6.
Finally we have five candidates running for the SAUSD School Board. I already commented on Palacio, above. He received a Bachelor of Arts Degree in Political Science from the University of Arizona, attended Catholic University of America Law School and did graduate studies at both Bucknell and Arizona State universities, according to his bio. However it appears that Palacio only completed his B.A. degree.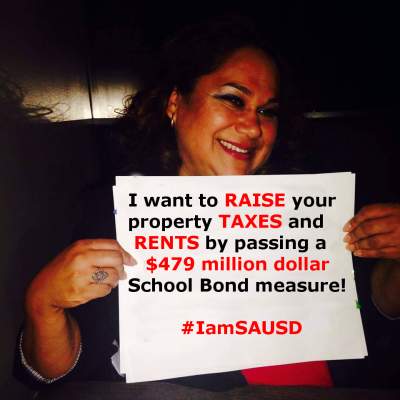 His fellow incumbent Valerie Amezcua is also running again. She recently retired from the OC Probation Department. Amezcua's Linkedin page notes that she attended two universities however it does not mention if she actually completed any college degrees.
What is perhaps most disturbing about Amezcua and Palacio is how eager they are to raise our taxes – for the third time. They are both backing Measure I, yet another SAUSD bond measure. They have already accrued almost a billion dollars in tax increases with their previous bond measures.
Local realtor Cecilia Aguinaga has an Associate of Arts Degree from Santa Ana College. However she does not appear to be running much of a campaign for the SAUSD School Board.
The other two candidates for the SAUSD School Board are Angie Cano and your New Santa Ana editor/publisher, Art Pedroza.
Cano earned a Triple major in Economics, Political Science, and Spanish Literature, at UCI. She is a businesswoman as well.
Pedroza has a Master's Degree in Business Administration. He is the only teacher on the ballot with over fifteen years experience teaching at Cerritos College. Pedroza also works as a Sr. Risk Control Consultant for a global insurance carrier. He has worked in occupational safety and risk control for almost twenty years.
So when considering at all of these candidates ask yourself – would you hire any of them? If the answer is no then you probably should vote for someone else!