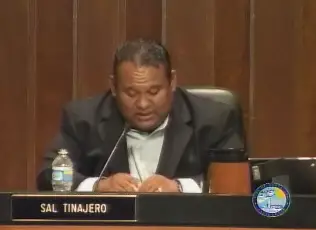 The votes have not yet been completely tallied but so far it looks like Santa Ana's voters have decided to raise their own sales and property taxes as Measures X and I are winning easily.
However the architect of Measure X, Sal Tinajero, is getting thoroughly trounced by longtime Santa Ana Mayor Miguel Pulido, who has a comfortable 2,000 vote margin. This means the increasingly strident Tinajero is finished as he is now termed off the City Council as well. 
Most of Tinajero's City Council candidates also went down in flames as David Penaloza has a comfortable lead in Ward 2 and Ceci Iglesias is cruising to victory in Ward 6. The only City Council seat that remains up in the air is Ward 4 where Tinajero's pal Roman Reyna is clinging to a 742 vote lead over his opponent, former Planning Commissioner Phil Bacerra.
Bacerra likely would have won going away if not for the horrific smear campaign orchestrated by unknown dark money sources.
Our future City Council elections will be very different going forward as Measure AA is winning easily – which means we are going to move to a Ward-Specific City Council election. What this also means is that some of the new City Council Members may have to run against existing City Council Members in two years as the new wards will inevitably result in a merger of some existing areas.
The new Santa Ana City Council will have even more money to play with as Measure Y, a new tax on cannabis businesses, is way ahead as well.
Pulido has been in office for over 20 years and now SAUSD School Board member John Palacio will be able to say the same as he and his colleague Valerie Amezcua are far ahead in their reelection races. Their property tax increase, Measure I, is also winning easily.
California's voters also opted to keep our high gasoline tax as they rejected Measure 6. However the good news is that Prop. 10, the rent control measure, went down to defeat. Unfortunately so did Prop. 5 which would have allowed seniors to keep their Prop. 13 benefits when selling their homes and downsizing to smaller abodes.
And get ready to pay a lot more for meat as Prop. 12 passed meaning that farm animals will get bigger cages.
By now you likely know that the Democrats took the majority in the U.S. House of Representatives. Locally Mike Levin (D-Irvine) defeated his Republican opponent, Diane Harkey, as Darrell Issa's old seat in the 49th Congressional District got flipped to the blue column.
Republican Dana Rohrabacher is losing right now to his Democratic challenger Harley Rouda, by about 500 votes, in the 48th Congressional District.
Republican Mimi Walters is faring better in the 45th Congressional District as she is ahead of her liberal Democratic opponent Katie Porter by over 7,000 votes.
Predictably Lou Correa his trouncing his Trumper opponent, Russell Rene Lambert, by over 13,000 votes.
The Republicans are hanging on to our local state legislative seats as State Senator Janet Nguyen has a comfortable lead over her Democratic opponent, Tom Umberg.
Democrat Tom Daly is also prevailing in the 69th Assembly District, over his challenger, Libertarian Autumn Browne, who has over 8,700 votes but is coming up short.
Locally it looks like OC Supervisor Todd Spitzer will be our new OC District Attorney as he is handily beating the longtime incumbent, Tony Rackauckas.
La Habra City Councilman Tim Shaw, a Republican, is also clinging to a lead in the race for the 4th Supervisorial District over Democrat Doug Chaffee.