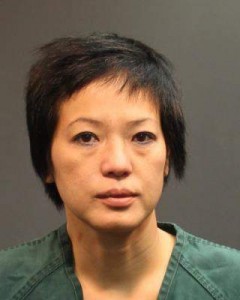 Santa Ana Police Department
Advisory: Woman arrested for felony vandalism of place of worship
Arrested: Trang Thu Pham (45) Santa Ana
On 1-13-2015, Santa Ana Police Department Detectives were contacted by the Costa Mesa Police Department and advised them they had a woman detained in their city who was possibly the wanted suspect involved in the vandalism of the Hoc Tich Buddhist Temple.
A security officer working at a CVS Drug store on Harbor Blvd in the city of Costa Mesa recognized the woman from a story he saw on television news reports. The security officer located the news story on his cell phone and confirmed that it was a Santa Ana PD story. Costa Mesa PD officers responded to the store and detained the female.
Detectives interviewed Pham about the case and she confirmed she was in fact the person on the video and pictures. She advised detectives she had no issues or problems with the Buddhist religion. Detectives believe Pham committed the vandalism over a personal issue she has with a person associated with the Hoc Tich Buddhist Temple.
Pham was booked into the SAPD Jail for CPC 594.3 (a) Felony Vandalism of a Place of Worship.
###