The SAPD arrested two robbery suspects on Monday, a few hours after a gang-related attack in which a pedestrian was struck by a car that appeared similar to the one used in the robbery, according to the O.C. Register.
SAPD police officers got a call at 6:30 p.m., on Monday, regarding some teenagers who were robbed of their money and their skateboards while they were at Centennial Regional Park, which has a skate park, located at 3000 W. Edinger Ave., in Santa Ana,. The robbers were a man and a teenage boy, who was armed with a handgun.
As the police officers were on the way to Centennial Park they spotted a white Scion vehicle that had a shattered windshield that matched the description of a vehicle that was allegedly used to hit a pedestrian several hours earlier.
The victims of the attack on the pedestrians told the police that their attackers had taken off in a white Scion.
When the police tried to pull over the Scion, a man and a boy ran off on foot after first trying to drive over a curb, which disabled the Scion.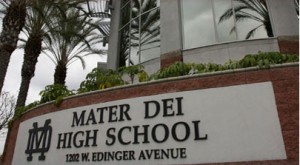 The police set up two perimeters and caught the robbery suspects within the hour. The man was arrested at the 1300 block of South Baker St., just west of Martin Elementary School. while the juvenile was found, with his gun, at the 1300 block of West Elder Ave., just north of Mater Dei High School. The police did not release their names or their ages.
The robbery victims at Centennial Park identified the suspects as being the robbers who took their money and their skateboards.
The police believe that the robbery suspects may have also been involved in a gang-related argument that took place at around 3 p.m. at the 3500 block of West 1st Street., near Santa Anita Park.
That incident involved three males who were walking when four males pulled up next to them in a Scion sedan. One of the vehicle's occupants pulled out a handgun which prompted the pedestrians to flee on foot.
As one of the pedestrians ran across 1st. St. the driver of the Scion vehicle struck him. He ended up at a local hospital with non-life-threatening head injuries and the Scion took off.
The robbery took place in Santa Ana's Ward 6, which is represented by Councilman Sal Tinajero. The assault on the pedestrians took place in Ward 4, which is repressented by Councilman David Benavides.