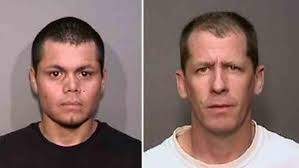 Santa Ana Police Department
Advisory: TWO MEN TO BE ARRAIGNED ON INDICTMENT FOR SPECIAL-CIRCUMSTANCES MURDER IN COMMISSION OF KIDNAPPING AND RAPE OF FOUR WOMEN
SANTA ANA – Two men are scheduled to be arraigned tomorrow on an indictment for the special-circumstances murder in the commission of a kidnapping and rape of four women. Steven Dean Gordon, 45, and Franc Cano, 28, both of Anaheim, were indicted by the grand jury today Oct. 2, 2014.
They are each charged with four felony counts of special circumstances murder during the commission of rape, kidnapping, lying in wait, and multiple murders. They are also each charged with four felony counts of forcible rape. If convicted, they face a minimum sentence of life in state prison without the possibility of parole and are eligible for the death penalty. The defendants are both scheduled to be arraigned on the indictment tomorrow, Oct. 3, 2014, at 9:00 a.m. in Department C-5, Central Justice Center, Santa Ana.
The grand jury heard testimony from 16 witnesses over a three-day period and returned an indictment on the fourth day of the grand jury hearing. No additional information is being released at this time until the grand jury transcripts are unsealed.
The Anaheim Police Department and Santa Ana Police Department investigated this case.
Senior Deputy District Attorney Larry Yellin of the Homicide Unit is prosecuting this case.
###