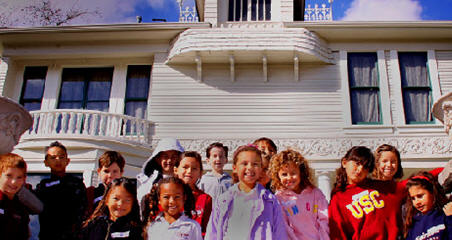 Here are a few more fun places to go and things to do here in Santa Ana:
The Heritage Museum of Orange County
3101 West Harvard Street, Santa Ana, CA 92704, (714) 540-0404
Friday: 1:00 p.m.- 5:00 p.m, Sunday: 11:00 a.m.-3:00 p.m.*
Other times are available by appointment only for groups of 10 or more.
Prices:
Adults: $5, Seniors/Children: $4
Free parking!
Free use of grounds during public hours, AAA/Access Member Discounts
Special for Santa Ana Residents Only: Free Admission & Tour on first Sunday of every month.
Dr. Howe-Waffle House
Open House   11 am  to 4 pm
120 Civic Center Dr., West, Santa Ana, CA 92780
Normal admission without the pass is $5 for adults, $4 for seniors and members, and $3 for children and students.
Get a free pass by clicking here.  For the Saturday Sept. 26 Smithsonian Days  (Two pass limit)
Old Orange County Courthouse
211 W. Santa Ana Blvd.,  Santa Ana, CA 92701
(714)973-6605 or (714)973-6607
"Aurelius O. Carpenter: Photographer of the Mendocino Frontier,"  Which runs from August 31 to December 31, 2009.  The exhibition portrays life in California in the 19th century.
Metered parking, no charge to any of the exhibits.  Hours between 8am and 5pm weekday.