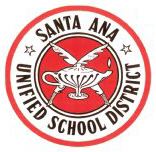 FOR IMMEDIATE RELEASE
Contact: Deidra Powell, Chief Communications Officer, (714) 558-5555 office,  (714) 673-4995 mobile
SAUSD Academic Scores Continue to Climb on 2012 STAR Measures
SANTA ANA, CA – August 31, 2012 — Students in the Santa Ana Unified School District (SAUSD) continue their upward trend of improvement on the Standardized Testing and Reporting (STAR) measurements according to results recently released by the California Department of Education. The STAR is administered to students in grades 2-11 and used to determine how well students are achieving state-adopted content standards in English-Language Arts, Mathematics, History-Social Science, and Science.
District-wide students increased their percentages in the categories of proficient and advanced in English-Language Arts and Mathematics. Since 2010, the District had a 5.6% increase in English-Language Arts which means an additional 1,222 students scored proficient and advanced. In the area of Mathematics, students had a 5.5% increase, meaning an additional 1,314 students scored in the proficient and advanced categories.
"The continuous improvement of our student's performance on assessments is showing that we have a clear focus on learning and that we are on the right track to ensuring all of our students are college and career ready," said Superintendent Thelma Meléndez de Santa Ana, Ph.D.
Santa Ana Unified School District (SAUSD) educates approximately 57,000 students at 61 school sites throughout the Santa Ana community. The K-12 school district is the largest in Orange County and the second largest employer in Santa Ana with approximately 4,500 educators and staff members. The school district boasts 28 California Distinguished Schools, five National Blue Ribbon Schools, and two 2012 National Blue Ribbon nominees. For more information, contact us at 714-558-5555, or deidra.powell@sausd.us. To learn more about our schools, visit www.sausd.us.
###
Editor's Note: Click here to look up the STAR 2012 Test Results for YOUR school.