The Santa Ana Unified School District Board of Education (SAUSD) would like your input in regards to the search for a new superintendent, and they have requested the help of Hazard, Young, Attea, and Associates to help them with the process.
As one of the initial steps in the process, the Board would like to seek the input of staff, parents, community members, and even students, on the desired characteristics and skills that are critical for the next superintendent of SAUSD. Input can be provided in two ways.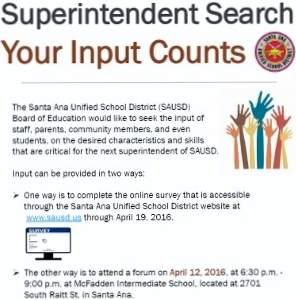 One way is to complete the online survey by clicking here through April 19, 2016. The other way is to attend a forum on April 12, 2016, at 6:30 p.m. – 9:00 p.m. at McFadden Intermediate School, located at 2701 South Raitt in Santa Ana.
Please encourage the SAUSD to not hire another aged Superintendent who is just looking to pad his pension at our expense!