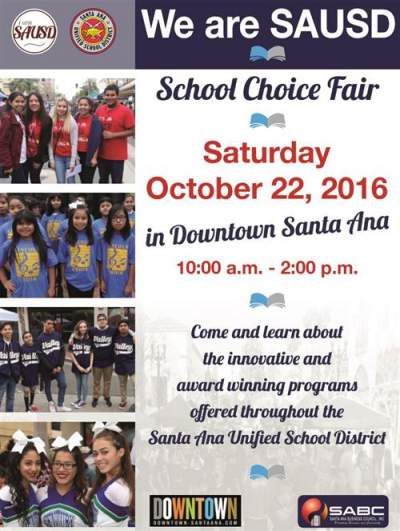 "We are SAUSD" School Choice Fair
Saturday, October 22, 2016

(October 17, 2016) – The Santa Ana Unified School District invites parents, students, and community members interested in learning about the unique opportunities and programs available to students at its 57 schools to attend "We are SAUSD School Choice Fair," to be held Saturday, October 22, 2016, from 10:00 a.m. – 2:00 p.m. in downtown Santa Ana on 4th Street.
"Our focus is to prepare all of our students for college and career beginning as early as preschool, so our School Choice Fair is a great opportunity for parents to get a head start on the variety of options that we have for their children so that they can plan and make the best decisions for their education," said Dr. Stefanie Phillips, Superintendent of the Santa Ana Unified School District.
Santa Ana Unified School District is the only school district in the area that has partnered with Santa Ana College (SAC) to provide free first year tuition and a laptop to students who graduate from Santa Ana Unified School District schools. Additionally, the district has a unique partnership called Santa Ana ¡Adelante ! with Santa Ana College, California State University Fullerton (CSUF), and University of California, Irvine (UCI) that provides a direct pathway for students to attend college by providing guaranteed admission to CSUF or UCI graduation from SAUSD and completion of requirements at SAC.
During the School Choice Fair, parents will be able to learn about each school in the district, meet the principals, teachers, staff, and students, and enjoy a variety of student entertainment.
For more information, please contact the Communications Office at (714) 558-5555.