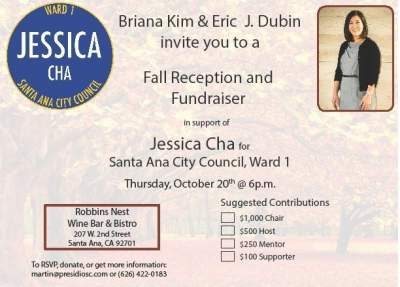 Santa Ana City Council Ward One challenger Jessica Cha is hosting her second campaign fundraiser on Oct. 20, at 6 p.m., at Robbins Nest Wine Bar and Bistro, located at 207 W. 2nd St., in DTSA.
The event is being hosted by Briana Kim of Briana Kim, PC and Eric J. Dubin of Dubin Law Firm. RSVP: Martin Medrano (626) 422-0183 or martin@presidiosc.com.
Cha has been endorsed by the Santa Ana Police Officers Association. She is a top-rated family law attorney based in DTSA. She is one of only two women running for the Santa Ana City Council this year. We have endorsed Jessica for Ward One.