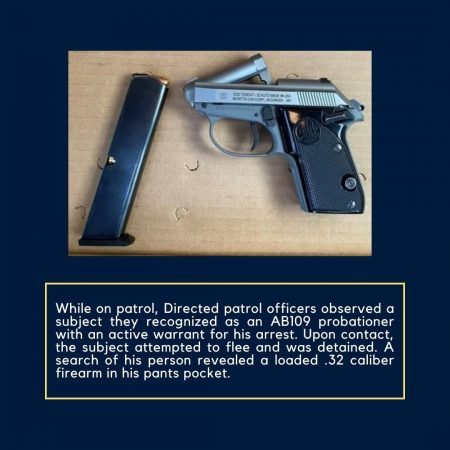 The SAPD has posted their weekly gun seizure update for the week of 15/2022 – 01/21/2022.
While on patrol SAPD Directed Patrol officers observed a subject they recognized as an AB109 probationer with an active warrant for his arrest. Upon contact the subject attempted to flee but was detained. The police searched him and found a loaded.32 caliber firearm in his pants pocket.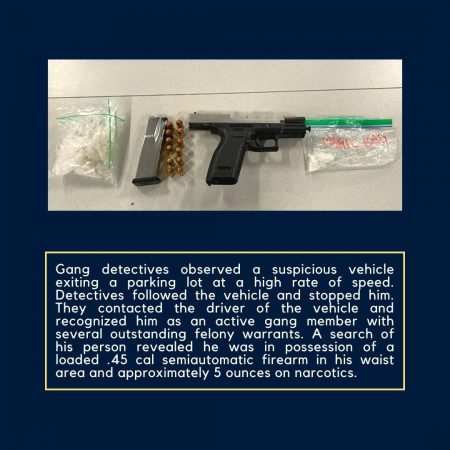 SAPD gang detectives observed a suspicious vehicle exiting a parking lot at a high rate of speed. The detectives followed the vehicle and stopped the driver.
The detectives contacted the driver of the vehicle and he was recognized as an active gang member with several outstanding felony warrants for his arrest.
A search of the suspect found he was in possession of a loaded .45 semiautomatic firearm in his waist area. He also had approximately five ounces of narcotics.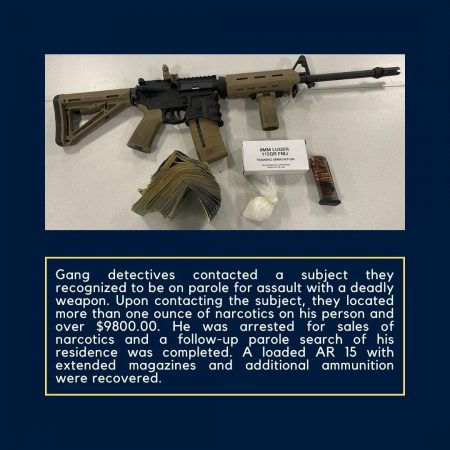 SAPD gang detectives contacted a subject they recognized to be on parole for assault with a deadly weapon.
Upon contacting the subject the detectives located more than one ounce of narcotics on his pearson and almost ten thousand dollars in cash.
The suspect was arrested for sales of narcotics and a follow-up parole search of his residence was also completed. The police found a loaded AR15 with extended magazines and additional ammunition was also recovered.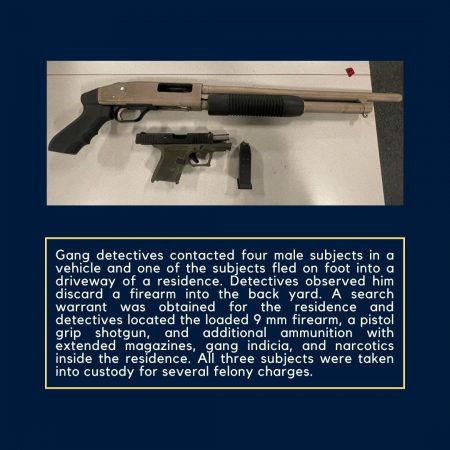 SAPD gang detectives contacted four male subjects in a vehicle and one of the suspects fled on foot into the driveway of a residence.
The detectives observed the suspect discard a firearm into that residence's backyard. A search warrant was obtained for the residence and the detectives located a loaded 9mm firearm, a pistol grip shotgun and additional ammunition with extended magazines. Gang indicia and narcotics were also find inside the residence.
Three suspects were taken into custody on several felony charges.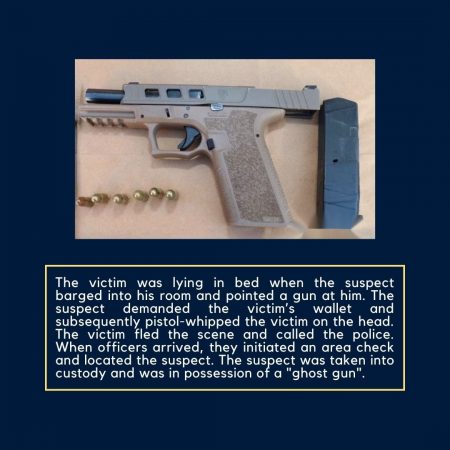 An unidentified victim was lying in bed when a suspect barged into the room and pointed a gun at him. The suspect demanded the victims wallet and subsequently pistol-whipped the victim on the head.
The victim fled from the scene and called the SAPD. When the police officers arrived they initiated an area check and were able to find the suspect.
The suspect also was in possession of a ghost gun. He was taken into custody.