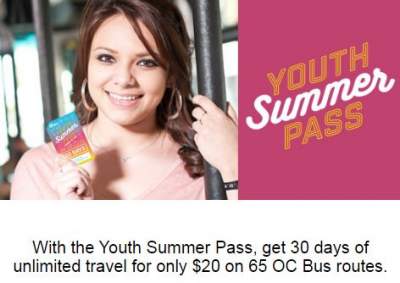 FOR IMMEDIATE RELEASE
OCTA Offers Youth Summer Pass for Half Price
Youth can ride June 1 through Aug. 31 for $20 per month, 50 percent off the regular fare
ORANGE – The Orange County Transportation Authority is encouraging youth to explore their community this summer by getting out and visiting Orange County's many attractions using the discounted OCTA Youth Summer Pass.
For the past 16 years, OCTA has provided a summer bus pass for those 18 and younger as part of a youth ridership program. The pass gives youth the freedom to travel and have fun with their friends.
The 30-Day Youth Summer Pass is a limited-time discount on the youth monthly pass. It's being offered to youth ages 6 to 18 and costs $20, half off the typical price. It is valid for unlimited rides on the 65 OC Bus routes for 30 consecutive days between June 1 and Aug. 31.
The Youth Summer Pass is on sale June 1 through Aug. 15, and this year, can be conveniently purchased using the mobile ticketing feature of the OC Bus app. Passes can also be purchased on OCTA's website, by calling (714) 560-5932, at Orange County Ralphs, Vons and Northgate Gonzalez Market locations and at the OCTA Store, 600 S. Main St. in Orange.
As part of this year's promotion, OCTA is offering prizes, including Knott's Berry Farm tickets, movie theater tickets and gift cards, to a lucky winner each week. To enter, participants are asked to hop on an OC Bus, take a selfie with the special summer bus decal and share their photos on social media using #OCSummerBus.
To find out more about the OCTA Youth Summer Pass, visit www.octa.net/summer.
# # #
FOR MORE INFORMATION: Joel Zlotnik (714) 560-5713,  Eric Carpenter (714) 560-5697