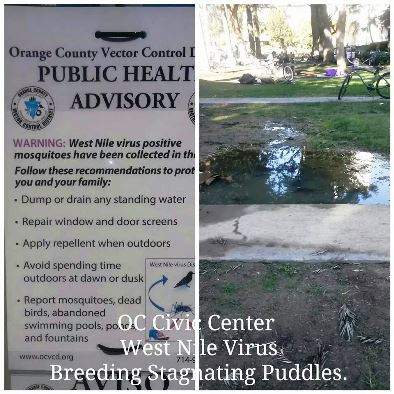 Just when you thought the threat of the Orange County Vector Control District spraying chemicals on our homes here in Santa Ana was over, the OCVCD is scheduled to make a presentation to the Santa Ana City Council at tomorrow night's City Council meeting, set for Oct. 7, 2014, at 7 pm, at the Council's Chambers.
The OCVCD recently made headlines again when they proposed spending a million dollars on an exhibit about mosquitoes at the Discovery Center in Santa Ana.
However as we have disclosed in recent articles the West Nile Virus problem in Santa Ana is almost entirely focused on the homeless population.  The homeless sleep outside and as such are more exposed to mosquitoes than the rest of us.  As such spraying our homes is senseless and most likely is just engineered to scare us into allowing the OCVCD to raise our property taxes again.  It is a tax heist.
In related news, one of our readers, Igmar Rodas, notified us today that there have been stagnating puddles of water near the Santa Ana City Hall.  Rodas has reported this to the City of Santa Ana but three weeks have gone by and the problem has worsened.  He wonders if the City cares that they are putting the homeless at further risk of contracting the West Nile Virus?
Ironically the City Council will also be talking on Tuesday night about the proposed homeless shelter which the County of Orange wants to locate near homes, schools, parks and businesses on the city's East Side, in Councilman Vince Sarmiento's ward.  The homeless shelter should however be located where they congregate – in Downtown Santa Ana.
If you have time please consider attending tomorrow night's City Council meeting so you can tell the OCVCD you don't want chemical spraying in our city and let the City Council know that they need to have the County locate the homeless shelter in Downtown Santa Ana, not in the middle of a neighborhood.