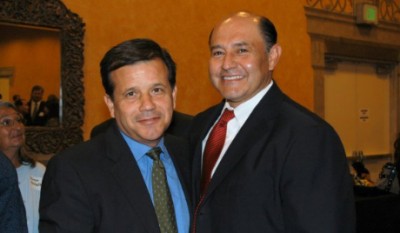 City of Santa Ana
Advisory: MAYOR & COUNCIL TO HONOR SEN. LOU CORREA, SOUTHWEST LITTLE LEAGUE TEAM & WATER IS LIFE CONTEST AWARD WINNER TUES.
SANTA ANA, CA (October 7, 2014) – The public is invited to attend the City Council Meeting on Tuesday, October 7, 2014 as members of the City Council will recognize community members for their outstanding service to the City of Santa Ana.
Mayor Pro Tem Sal Tinajero will honor the Southwest Little League Team, the Baseball Pirates, for winning the City Tournament for the City of Santa Ana. Councilmember Michele Martinez will honor Senator Lou Correa for his service to the community and for his years of service in the California State Legislature. Councilmember Vincent Sarmiento will honor Zayra Garcia for winning the "Water is Life" art contest held by the Metropolitan Water District and her teacher, Arica Dowd, for submitting the student drawings.
Please join the Mayor and City Council in recognizing these outstanding citizens by attending Tuesday's city council meeting or visit, http://www.santa-ana.org/coc/granicus.asp, to see it streamed live on the web.
###