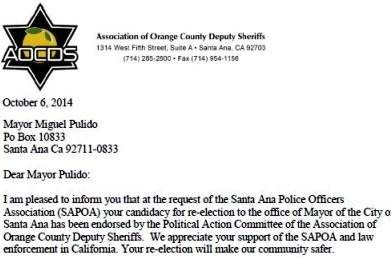 Santa Ana Mayor Miguel Pulido has been endorsed by the Political Action Committee of the Association of Orange County Deputy Sheriffs (AOCDS) – his latest key public safety endorsement.  The Santa Ana Police Officers Association (SAPOA) has also endorsed Mayor Pulido as has the Orange County Professional Firefighters Association.
The AOCDS PAC wrote in their endorsement letter that Pulido's re-election will "make our community safer."
Since he was first elected to the Santa Ana City Council in 1986, Mayor Miguel Pulido has been a major force in the renaissance and economic revitalization of the City.  He is currently serving his sixth term as Mayor and has proven to be a leader, not only within the community, but regionally and nationally.  Mayor Pulido has focused his efforts on improving the quality of life for all Santa Ana residents.   During his tenure the City has experienced a 58 percent reduction in crime, an increase in home values, a rise in the number of business licenses, an enhancement of the economic opportunities for the private sector, an overall revitalization of the City's infrastructure and an expansion in social and culture venues.
Under Mayor Pulido's leadership, the City of Santa Ana has benefited from a tremendous growth in economic opportunities.  As a result of his advocacy efforts, the City of Santa Ana was designated an Enterprise Zone by the State of California in 1993 to promote business growth and job generation by offering state tax credits and highly valuable incentives to businesses.  To date, nearly 35,000 hiring tax credits have been awarded to Santa Ana firms.  Mayor Pulido has also taken a lead role in facilitating business opportunities in the global economy.  In 1999, he spearheaded the Orange County International Trade Center Advisory Council's efforts to develop a strategy for assisting local businesses expand into international trade.  In 2001, Mayor Pulido established the International Business Center and negotiated with President Fox to open Mexico's first trade center in Santa Ana.  He was also appointed by the President to serve on the Federal Inter-Governmental Policy Advisory Committee on Trade, where he provides advice to the United States Trade Ambassador.
Click here to read the rest of Pulido's Bio.