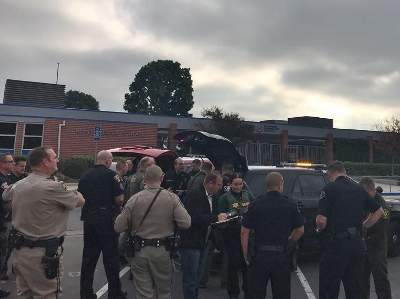 As I was coming back from dropping off my son at Foothill High School, in Tustin, this morning, I wondered why so many police cars were speeding by me, on 17th, heading back towards Tustin.
Turns out O.C. Sheriff Deputies were responding to an unsubstantiated report of a subject with a weapon near campus at Hewes Middle School, which is located in unincorporated Santa Ana, at 13232 Hewes Ave., according to the O.C. Sheriff's Twitter page.
No injuries have been reported thus far and no shots fired. Deputies are working to clear the campus. 
Update: Initial search of the school is clear. Briefing deputies and law enforcement partners to conduct a full, methodical search of the school. Campus remains on lockdown.