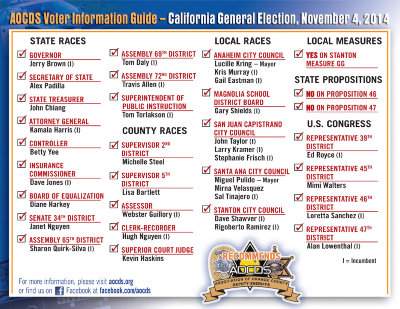 The Association of Orange County Deputy Sheriffs PAC has rejected Santa Ana Council Members David Benavides and Michele Martinez as well as their colleague Roman Reyna, who is running an ill-advised campaign against Mayor Miguel Pulido.
All three of these candidates are thought to have connections to Santa Ana's gangs.  They were all involved in firing our former Chief of Police, Paul Walters, and they voted to get rid of the SAPD's Strike Force.  All three of them were also caught ignoring several SAPD officers who were being honored a few weeks ago at a Santa Ana City Council meeting.
Crime is perhaps the biggest issue in Santa Ana right now as gang violence has exploded over the past year.
The AOCDS endorsed Mayor Pulido as well as Ward 2 candidate Mirna Velasquez and Ward 6 incumbent Sal Tinajero.  Pulido, Velasquez and Tinajero were also endorsed by the Santa Ana Police Officers Association.