This fall's Santa Ana School Board race is shaping up to be perhaps the most interesting local election in awhile.
Candidates for the SAUSD School Board who already announced that they are running in November include Shuntele Andrews, a retired Valley High School teacher; Cecilia Aguinaga, a community activist who serves on the OC Vector Control Board; Eric Alderete, an attorney and Planning Commissioner; and Valerie Amezcua, a Supervising Probation Officer at the Central Youth and Family Resource Center in the City of Santa Ana.
Two SAUSD School Board Trustees are up for reelection – John Palacio and Audrey Yamagata-Noji. Both have been in office far too long.  I hear Yamagata-Noji may be retiring from the School Board.  I have not heard that about Palacio. I suspect he will run again.  He almost has to.  He says he is a political consultant but who would hire him?  He needs the pay and benefits he gets from the SAUSD.
The Santa Ana Educators Association, the union that represents the SAUSD teachers, has reportedly already chosen the candidates they are endorsing – Andrews and Amezcua.  But will Andrews have a good ballot designation as you cannot use "Retired Teacher" as your ballot title?  And Amezcua already lost once.  Why does anyone think that she will prevail this time?
So what the heck is the teacher's union up to?  Well for one thing they recently negotiated a 4% retroactive pay raise.  When was the last time your boss gave you a retroactive raise?  In fairness the teachers have put up with pay freezes and cuts over the past few years so now that the state is dumping millions into our district, part of Governor Jerry Brown's reforms, the teachers want their money.
But the voters will have to decide if they want to support candidates controlled by a union that just wants to get paid.  School Board members are supposed to represent all stakeholders but particularly the voters and taxpayers as well as the parents of public school kids.
One of the biggest problems faced by the SAUSD has been the persistent brain drain as families that an afford to put their kids in private schools have done exactly that.  And many other families have found ways to move their kids to charter schools and out of district schools.  Even Yamagata-Noji sent her son to an Irvine high school.  The result?  The SAUSD continues to have the lowest graduation rates in Orange County as well as the highest dropout rates.  And the classrooms are overcrowded even in the fundamental schools which aren't what they used to be.
Do any of these candidates have an actual plan to improve things at the SAUSD when so many parents have lost faith in the district?  Most of the local teachers I know send their kids to private and charter schools too!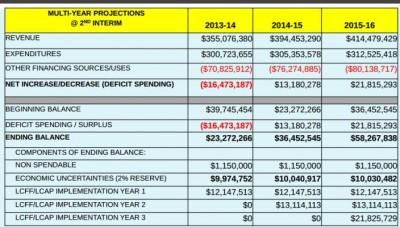 Do School Board members make a difference?  They can but of the current crop only one of them, Cecilia Iglesias, voted against the retroactive pay raise package. Take a look at the graphic above.  The SAUSD is running a $16M budget deficit – sure there is more money on the way but giving out a massive retroactive pay raise now, while we are in the red, seems a bit nuts.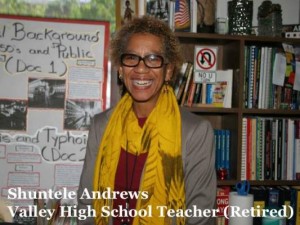 It is early yet.  We might see a few more candidates jump in.  And with all these Latino candidates already in you have to figure that Williams' odds are improved by the Latino vote split and Latino voter apathy in general.  In fact I wonder how a Vietnamese candidate would fare? The SAUSD does not include Santa Ana's west side but we have more Vietnamese families living here than ever before.
My son James is graduating from Godinez High School this year and my son Jacob was accepted to Columbus Tustin Magnet School.  I am done with the SAUSD and for us that is a major relief regardless of who ends up getting elected in November.