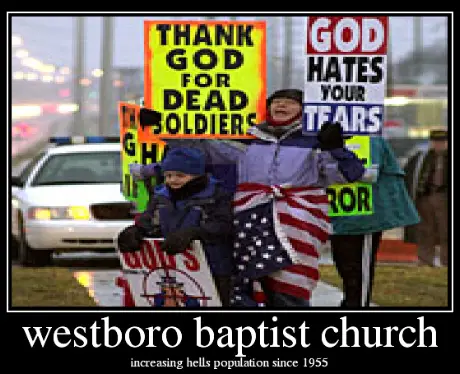 If you attended the counter-protest at Santa Ana's Artist Village on Saturday night you might have noticed that the anti-gay Westboro Baptist Church protesters never showed up.  But some 200-300 counter-protesters did!
Here are a few excerpts about the evening's activities, courtesy of the CSUF Daily Titan:
For 7-year-old Milo Bruschke, the Westboro Baptist Church protest against Cal State Fullerton's production of the Laramie Project, would have been a lesson in democracy.
Milo along with his father, CSUF Human Communications Professor, Jon Bruschke joined
about 200 picketers in a counter-protest against WBC at the Artist District in Santa Ana.
Jon and Milo debated on what to do, weather to protest or to ignore the WBC.
"We eventually decided that it was better to just show up," Jon said. "(The WBC) don't scare ya, they don't intimidate ya. We don't agree with them and we kinda thought, what they're doing is ridiculous."
According to their website GodHatesFags.com, WBC was scheduled to picket at Grand Central Arts Center at 7:15 p.m. to 8 p.m. right before showtime. When it turned 8:15 p.m. however, there was no sign of any WBC member.
Click here to read the rest of this article.