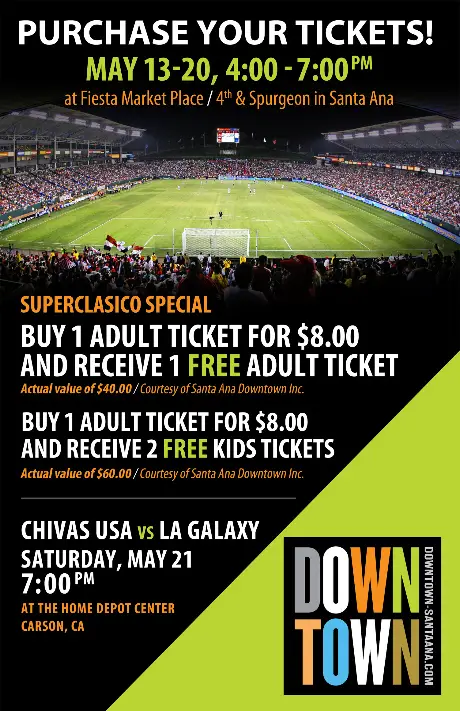 The Chivas will be at the Santa Ana Fiesta Marketplace Promenade from 4-7 pm all week selling "two for $8 tickets" for this Saturday's "SuperClasico" Chivas vs. Galaxy game at the Home Depot Center.  This is a $40 value!
Or buy one adult ticket for $8 and get two kids' tickets for free!  This is an $80 value!
The biggest match of the year is almost here. Chivas USA hosts the LA Galaxy in a challenge for Los Angeles bragging rights on Saturday, May 21st at 7 p.m. here at The Home Depot Center! Reserve your seats today and be here live and in person for Major League Soccer's biggest rivalry match! Catch world class Chivas USA soccer as they host Landon Donovan, David Beckham, Juan Pablo Angel and the LA Galaxy in a match representing "Real Passion" and "Real Action". Be here as a real life David vs. Goliath storyline unfurls itself when the underdog Goats face the glitz and glamour of the LA Galaxy.
Galaxy face a confident Chivas USA
Chivas USA brimming with confidence ahead of SuperClasico
CARSON, Calif. – As far as bitter rivalries go, the SuperClasico between the Galaxy and Chivas USA lately has left something to be desired.
The Galaxy leads the all-time series 12-3-5, including 5-0-3 in the last eight matches, and haven't lost to their co-tenants since a 3-0 loss on Sept. 13, 2007. The Galaxy have had a decided edge almost from the moment the series began in 2005.
But that may be about to change Saturday at The Home Depot Center (7 p.m., ESPN2 and ESPN Deportes) in this season's first leg of the series. Chivas, under first-year coach Robin Fraser, has a 3-3-3 record that includes a stunning 3-2 victory over the Red Bulls last weekend in New York.
"They're probably full of confidence," Galaxy midfielder Chris Birchall said. "We see them every day and speak to a couple of their players, and from what (Chivas defender Ante) Jazic said to me is they're feeling more of a team every weekend.
"That's good. We want to play any team when they're at their best. At the moment Chivas is playing really well and it should be a great game and hopefully a lot of fans will turn out."
The Galaxy's Todd Dunivant, who counts Chivas' Simon Elliott – "He's a Stanford guy," Dunivant joked – and Heath Pearce among his closest friends, said the proximity with their Chivas rivals makes it difficult for him and his Galaxy teammates not to keep track of them during the season.
"We talk to each other every day, we park next to them in the parking lot … it's a unique situation in this league, probably any league," Dunivant said. "They have a lot of confidence right now, they have a new direction and they're buying into it.
"That makes for a dangerous team."
This weekend's game marks a reunion of sorts for Fraser and Galaxy head coach Bruce Arena. Arena coached Fraser from 1999-2001 with the U.S. National Team and always was impressed with Fraser's approach to the game.
If there was someone who had coaching potential, Arena said, it was Fraser.
"What always impressed me about Robin was the kind of character he had," Arena said. "He wasn't one of those players where you had to measure every word when you spoke to him. He wasn't a guy with a major ego or attitude about him.
"I think because the way he always conducted himself you would expect that he could become a good coach. The biggest mistake people make is saying a former player could be a good coach. Most people don't realize they're players, not coaches, and to be a coach is a whole different mindset.
"I think he was one of the few that you would say if he wanted to be a coach that he would do a good job."
The Galaxy's Mike Magee said Fraser and Chivas certainly have the Galaxy's attention with their progress to date.
"They're definitely good. Even when they weren't getting results, they were playing really well," Magee said. "Things just weren't going their way, but they're one of the hottest teams in the west.
"It's a tough time to be playing them right now."
The Galaxy face Chivas USA at The Home Depot Center on Saturday, May 21 at 7 p.m. on ESPN 2/Deportes. Fans that can't make it to the match can join other supporters at Galaxy viewing parties at ESPN Zone at LA Live or Bier Academy in Santa Clarita. MORE INFO